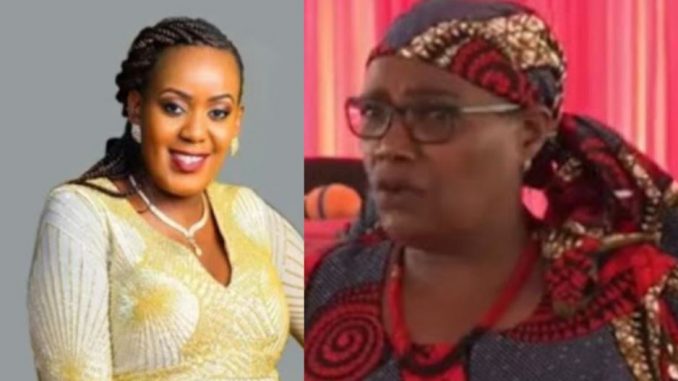 The jovial 30-year-old Mlolongo car spare parts dealer was laid to rest at Kianjege Village in Kirinyaga County. This came as a shock to many Kenyans who thought that Njeri would be buried alongside her husband Jonathan Mukundi in Kiambu County.
Mukundi shot his wife Philomena Njeri 4 times before turning the mini-Glock pistol on himself. He must have been boiling with rage.
The motive behind the ruthless killing and subsequent suicide has not come out clearly. But the theory that was being peddled around social media was that Philomena was pregnant with another man's child.
That theory has since been disapproved by the government pathologist, Dr. Johansen Oduor who revealed in the autopsy report that Njeri was not pregnant. The report definitely threw the spanner in the works for the DCI investigators.
Njeri was her mother, Margaret Wanjiru's only child. One can only imagine the pain she is going through at the moment.
READ ALSO: The Most Moving Photos From Philomena Njeri's Burial In Kirinyaga (R.I.P)
One of Njeri's god mothers identified as Mama Mumbi moved mourners to tears after she revealed how important she had been in her life.
"When my daughter Mumbi died 7 months ago, it is Njeri who has been my greatest support system. My late daughter left me with two kids. When they used to ask me the toughest questions, Njeri always came in handy. There are a lot of similarities between my daughter's burial and Njeri's. I am sure they will meet in heaven. They used to be great friends," said the lady.
One of Njeri's friends also read her Eulogy and concluded by using a line that the deceased loved to say.
"During tough situations, Njeri would always say 'si ni life'. Any one that knew Njeri will agree with me that that was her favorite line," Njeri's friend said.
Jonathan Mukundi is also set to be laid to rest on Thursday 12th August 2021 at his parent's home in Kanyoni Village, Kiambu County.