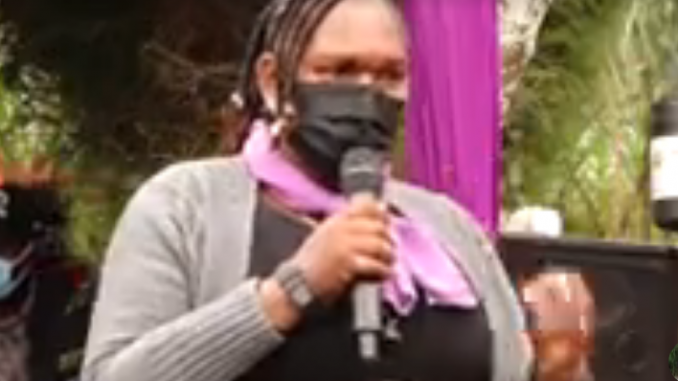 Caroline kangogo's sister has warned her neighbors, the government, and the Kenyans at large that they will pay for spoiling the good name of her sister and family.
She warned that God will unleash his wrath on the Kenyans for mocking a lady that was a woman of God and would not harm anyone.
According to her, Caroline is not there to narrate her side of the story and there is no need of judging the dead because we are not God.
Caroline Kangogo was laid to rest on Thursday at her parent's home in Iten, Marakwet county in a low-key ceremony that was snubbed by the police officers.
Caroline is accused of killing constable John Ogweno in his car and businessman Peter Ndwiga Njiru in Juja, Kiambu County.
She was on the run for about ten days but how she decided to go home and take her own life is a question that can only be answered by the police officer.
She was found by her mother in a pool of blood with a gun in her hand in the family bathroom after she had gone to clean it in the morning of that fateful day.
Her body was later taken by the police to the Iten hospital mortuary and later transferred to Moi Teaching and Referral hospital in Eldoret for postmortem and samples taken for forensic investigation by the chief government pathologist Johansen Odour.
Also Read: "I'm Dying Help Me!" Struggling COVID-19 Patient Pleads For Help As Doctors Ignore Her At Mbagathi
According to the pathologist report, Caroline Chemutai Kangogo was killed by a single gunshot wound from close range that went through her skull and to the brain killing her instantly.
They are sure that she died from a massive hemorrhage but they can't still tell if someone shot her at close range or she did it by herself.
Her case is surely going cold because the accused is no longer alive and the victims are not there to narrate their side of the story.
If Kangogo was killed to be silenced by men behind the cartels they were working for, then the truth will eventually come out even if it takes years to unravel.
People have called on the government to pay attention to the mental health of police officers because there are many cases of these men in uniform taking their own lives under unclear circumstances and that is worrying.
Click HERE to watch the video