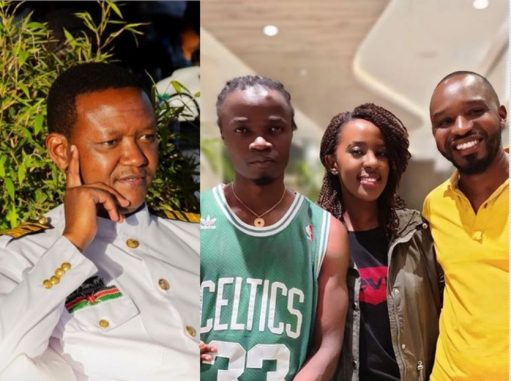 Activist Boniface Mwangi woke up today a very bitter man. This is after his family house that is under construction was blown up by unknown people. The construction project is in Lukenya, Machakos County.
According to Bonnie, the person behind the vandalism is Machakos Governor Alfred Mutua. He strongly believes he did that to revenge his celebration of the Juliani and Lillian Nganga's union.
The 38-year-old photojournalist cum politician shared some photos of the rapper and the former Machakos County First Lady having a good time. But the caption was rather abusive towards Dr. Mutua. Alfred Mutua's fans did not take Bonnie's action lightly. They even made it a trending topic on social media.
The fearless activist who is actively involved in social-political activism told off his haters and threatened to block all of them from his social media platforms. Well, it looks like the drama is just starting. His construction is now up in smoke.
Through a social media post, Boniface Mwangi shared a video of his construction project workers assessing the damage. The people that blew up the house used bullets and improvised explosives.
He did not visit the scene immediately he learnt about the news for safety reasons. However, he is certain that Alfred Mutua's 'thugs' were involved in the heinous act.
ALSO READ:
1: Revealed: How Eddie Ndichu Frustrated Zora Actress Sarah Hassan before Marrying Janet Mbugua
2: Agnes Tirop's Family Reveals the Evil Thing Her Killer Husband Did While She Was at Olympics
3. Former Tottenham Star Victor Wanyama and Girlfriend Serah Teshna Announce Their Baby
"I am sure it is Dr. Alfred Mutua's fans that blew up my construction project. He is a molester and an abusive man. Because I am not a criminal, I don't do deals and I will never compromise my values. He used state resources to blow up the house my family was building," wrote Boniface.
Boniface Mwangi says the governor tried to kill Juliani
In a separate video that he shared on his IG stories, he revealed that the Maendeleo Chap Chap party leader tried to kill Juliani. Juliani is only alive because the plans to kill him were exposed.
Bonnie also said that Dr. Mutua tried to harm his ex-wife Lillian Nganga, and that is why she is living in fear. Governor Mutua and Lillian announced their separation earlier this year, and the lady moved on swiftly with rapper Juliani.