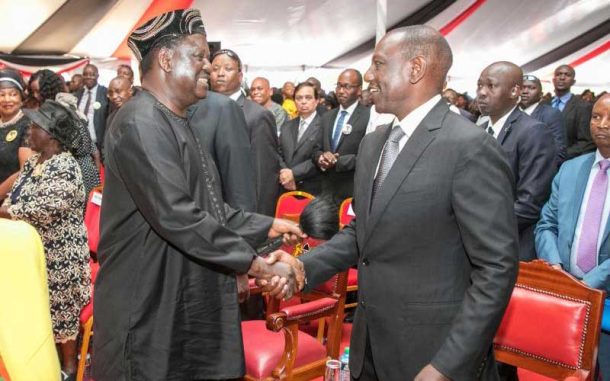 Raila Odinga has been holding countrywide rallies to mobilize his supporters to reject the Ruto led government.
Raila is agitating for electoral justice and a lower cost of living. President Ruto is adamant that the opposition chief is just creating chaos.
Ruto has asked Kenyans to give him time to sort out the economic mess allegedly created by the Uhuru Kenyatta government.
In an effort to tame the opposition chief, Ruto has been wooing his troops in parliament.
The goal is to isolate him and Kill the enigma politically. This has not been a walk in the park and he influences the African Union to sack him.
According to sources in the diplomatic circles, Ruto asked the AU to sack Odinga for undermining his Government.
He has gone ahead and written to the western countries to ban Raila Odinga from setting foot in those countries.
But speaking from Kitale,Raila Odinga has rubbished that move, calling it an act of cowardice from the president.
Raila has affirmed that they will not intimidate him from pursuing electoral justice.
Below is the statement from the ODM party on the subject of Western travel.
Azimio la Umoja leader Raila Odinga says he is not afraid of being banned from visiting any country overseas .
As long as they agree with the fact Kenyans must fix that Kenya's problems themselves.
He says calls by Kenya Kwanza to the west to ban him from stepping foot in their countries are mere hot air and acts of cowardice.
Speaking in Kitale town today, Mr. Odinga said he doesn't care if they will ban him from visiting any overseas country.
As is being agitated by the Ruto administration, which he says is illegitimate.
"Article 34 of the constitution gives Kenyans the freedom to express themselves and to picket.
 We shall fight for our rights whether they like it or not", he said.
He told Western countries not to listen to such calls and that they should first ask themselves if those making such calls are legitimately in power.
"Why are they afraid of having the IEBC servers opened?
They know what is in those servers and the truth is we won the election free and square"
he told the cheering crowd.
He said his main objective is to have electoral injustices ended and ensure that we respect the will of the people.
"We respect our friendly countries. We have had and continue having a cordial relationship with our friends.
They should also know that we must deal with our internal affairs", he added.
He said he will not not back down until they gave his victory back to him.
Ends…