Harun Aydin is a Turkish national that was deported back to his country due to what the anti-terrorism police described as sponsoring terrorist activities.
Harun had been in the country for the last few months looking for investment opportunities and throughout his stay in the country, he has been staying at Radisson blue hotel.
This is according to blogger Robert Alai who revealed the businessman had been staying in the hotel for the last 6 months.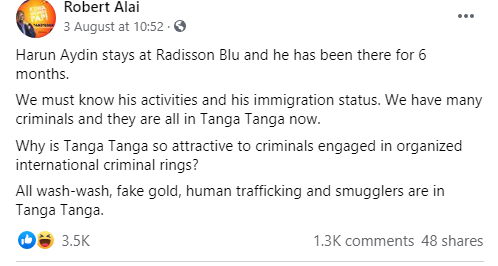 In intelligence tips sent to him anonymously by the Raddison Blue workers, it is now clear that the management of the hotel fear that the privacy of their clients has been compromised tainting the image of the hotel.
They have learned from the lessons drawn from the case of Harun Aydin and have instructed all their workers not to come to work with their phones effectively immediately.
Aydin was arrested after he jetted from Uganda, a trip that has brought som much controversy because the deputy president of the Republic of Kenya was involved.
William Ruto was barred from traveling with the Turkish man because of his connections to the terrorist groups because it will pose a security threat to him and the citizens of this country.
Also Read: Mediheal Hospital Exposed Badly For Practicing Open Racism
President Uhuru Kenyatta is duty-bound to ensure that all Kenyans are safe in this country and he had to swing into action if the intelligence reports they gathered on the man are true.
William Ruto has slammed the decision to deport the Turkish man and warned that those actions are dangerous and can easily kill the economy of the country.
He has since apologized to Harun for the embarrassment caused by the security official due to petty politics played by people who are keen to stop him from becoming the next president of Kenya.
Ruto feels that his friends are being persecuted by the police to instill fear in them so that they stop supporting his bid to succeed President Uhuru Kenyatta in 2022.