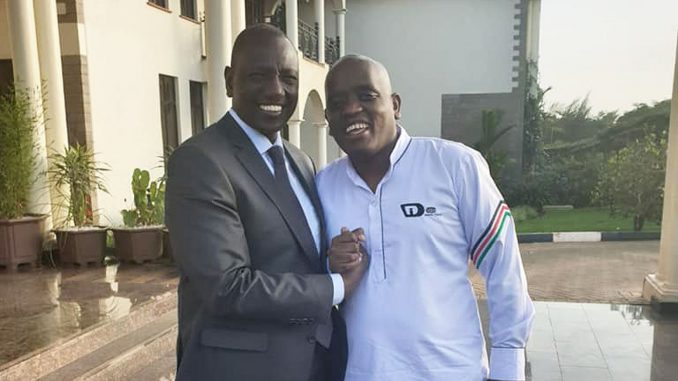 Dennis Itumbi is the chief political spinner and propagandist in William Ruto's team.
He is in charge of all the political lies and imaginary conspiracies to whip emotions and turn the tide to Ruto's favor.
He is to play with the minds of Kenyan voters and convince them that Ruto is the right man for the job.
Dennis Itumbi was doing a good job, only that they started spinning early before even Raila declared his interest.
Now he looks lost and clueless. He has been spinning the same narrative of weakening Raila until it has lost the taste.
According to Itumbi, president Uhuru Kenyatta prefers Gideon Moi and his main agenda is to weaken Raila,
Uhuru hopes to force Raila Odinga to support Gideon Moi when he is down and desperate.
But one wonders why he is using a lot of energy and putting the lives of those leaking information to him in danger.
Why would he do all that just to give his major opponent Raila Odinga a heads up?
He should be happy that Raila Odinga will be weak, which means Ruto will have an easy ride to statehouse.
His propaganda machine hopes to create suspicion, doubt, and mistrust between Raila and Uhuru.
If Raila and Uhuru break ties, it will be easy for them to sell Raila as a man who is cunning and a traitor.
He also wants to create a wedge between Gideon Moi and Raila Odinga such that Jakom loses his deep pockets.
Gideon will be handy during the campaigns because we all know it is very expensive to run presidential campaigns.
READ MORE:
1: William Ruto Photographer is Under Scrutiny, Does He alter photos?
2: David Ole Sankok First Wife Languishing In Poverty
Because he has repeatedly sold the same narrative through his hustler intelligence bureau.
people no longer buy to it because Raila has played smart, and he has not allowed that to play into his mind.
Why Ruto Will Drop Dennis Itumbi as His Chief Propagandist?
Dennis Itumbi has also been trying to portray Ruto as a victim who is being targeted by the state because of falling out with Uhuru.
It initially worked, but slowly Kenyans have realised his boss was too ambitious and eager to succeed president Uhuru.
Coming of Raila into the picture caused panic, and he began fighting the president with all he got.
In the end, it will play against him because the state machinery will on Raila's side.
Dennis has showed that he lacks creativity and what he has been doing is no longer working.
If Ruto is to win, he needs better political spinners because Itumbi looks amateurish in this game.