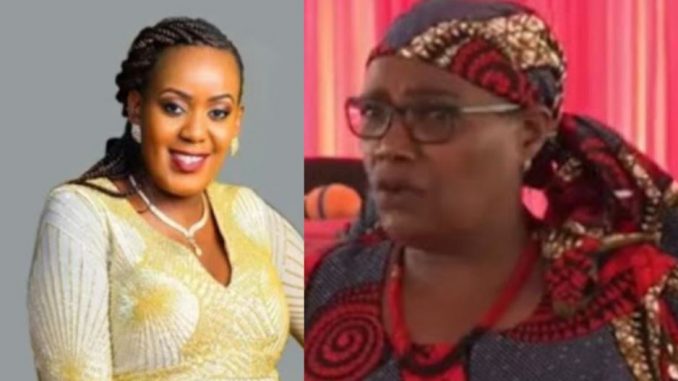 Business lady Philomena Njeri was laid to rest on 10th August 2021 at her mother's home in Kianjege village, Kirinyaga county. This is after she was shot four times by her husband Jonathan Mukundi in their matrimonial home in Kirigiti, Kiambu county.
She used to sell spare parts along Mombasa road with her husband. Many people that knew her describes her as a very intelligent woman who never took life too seriously but again she was very focused and determined to succeed.
During her burial ceremony, emotions ran high as her friends and family eulogized her. She was a generous woman who always looked out for the people she loved.
"When my daughter Mumbi died 7 months ago, it is Njeri who has been my greatest support system. My late daughter left me with two kids. When they used to ask me the toughest questions, Njeri always came in handy. There are a lot of similarities between my daughter's burial and Njeri's. I am sure they will meet in heaven. They used to be great friends," said the lady.
One of Njeri's friends also read her Eulogy and concluded by using a line that the deceased loved to say.
"During tough situations, Njeri would always say 'si ni life'. Anyone that knew Njeri will agree with me that that was her favorite line,"  Njeri's friend said.
Also Read: Philomena Njeri's God Mother Moves Mourners to Tears after Revealing This at Her Burial
Her mother could not even speak because she was too emotional and in shock after losing her only child in a very brutal manner. She declined to talk to mourners and eulogize her only daughter and instead Njeri's Godmother did it on her behalf because she was too weak and still in denial that her only daughter was no more.
The fact that her mother Margret Wanjiru was a single parent moved mourners to tears because she lost her only pillar in her life. The real cause of Mukundi's actions towards his dear wife of 10 years is yet to be established because there are no suspects to testify.
Mukundi and Philomena were childless even after living together as husband and wife for almost a decade. This is one of the reasons they were always fighting because Mukundi was not able to give his wife kids and make her a mother.
Jonathan Mukundi is also set to be laid to rest on Thursday 12th August 2021 at his parent's home in Kanyoni Village, Kiambu County.