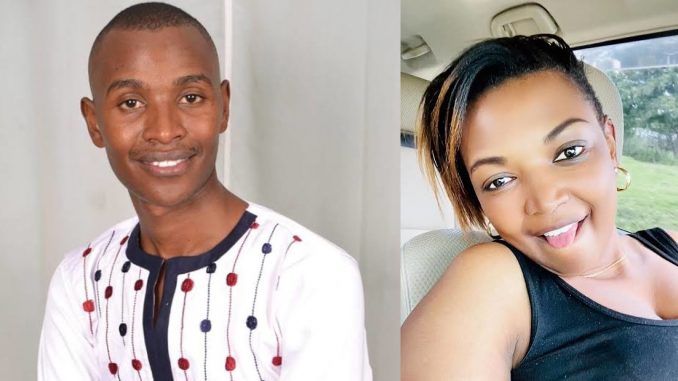 Karen Nyamu broke the internet yesterday when she revealed that the father of her son, Samidoh had physically assaulted her. The Mugithi music artiste was reportedly jealous because his baby mama went to Mombasa with another man.
According to lawyer cum politician, Samidoh is still in love with her and doesn't want to see her with men even if it is for business.
Kenyans castigated Samidoh for his abusive nature but the man has defended himself in a letter posted by him on social media. The long letter exonerates him and has revealed the ugly side of the lawyer. Check it out below;
Also Read: Samidoh Narrates How Karen Nyamu Lured Him To Bed After Their First Night Out In Carnivore
Dear Karen Nyamu,
I am a police officer with prerequisite information on matters law. I know that the law is an ass and you are determined to jeopardize my job or persona. I must tell you Karen that the day I set eyes on you, I was performing at Carnivore when you kept winking at me. I ignored but as they say, "When a woman wants you it is only God or your legs that will save you! " I gave in to your amorous advances. But I didn't know the devil incarnate you were.
After a weekend of carousal, you splattered all our naughty videos all over social media attracting the attention of all and sundry. I became a bogeyman to everyone including the village obsequious fool. You dragged my persona I the mud, tore my beautiful family with your immoral idiosyncrasies. I kept quiet. I continued belting tunes, crooning hits after another while your preoccupation was abusing me, hurling profanities in the full glare of the media. Things I expected to be under wraps you paraded to everyone including the squirting details, cathartic orgasmic outbursts inside Villa Rosa Esque we rented with proceeds of my hard-earned money. As if that is not enough, you took me as a tease dancer who should be played with.
And now you are at it again staging dramatic sequels to the effect that I beat you up into a pulp. I came to your house and the next thing was staying a well-orchestrated drama accusing me of attempting to rape you
All the while, I remained a gentleman when you punched me into the ground, breaking the cutlery and attracting the attention of neighbors. I was demanding my money which I had loaned you and I wanted to sever all ties with a drama queen of your stature. Now you are accusing me of physical assault, causing you dark spots around the soft tissues of the orbital and temporal regions of your eyes. Your hair was strewn while trying to strangle me as you pinned me to the ground. I tried to defend myself but you took a knife and I was able to escape.
Now, Maendeleo Ya Wanawake, LSK, FIDA are on my neck. You have twisted this narrative to suit your ego. You are a bad cookie operating in cahoots with an impenetrable ring that secures you whenever you emasculate a poor victim.
My verdict is that you should leave me alone, avoid further disparaging of my family or drawing me into your troubles. After all, those we love we bed and those we bed we love you told me one chilly morning. I also wanted to put it to you that since your primary school days in Embu, Kamuthatha, you were an inveterate liar, pathological manipulator till you graduated to your systemic rabbit hole theatrics. I, therefore, direct my battery of lawyers to meet you in court over a number of issues.
Signed,
Samidoh Muchoki.
Also Read: This How It Ended For The Motorbike Thief That Snatched A Police Officers' Phone