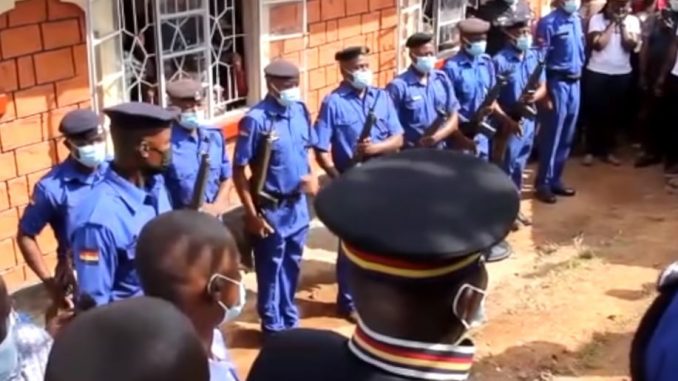 Late Nakuru based Police Constable John Ogweno was allegedly killed in cold blood by his late lover, Corporal Caroline Kangogo. Kenyans have never understood why the 34-year-old killed him yet in one of her suicide notes she described him as the love of her life.
Maybe that explains the reason why she could not live with the fact that she had killed the only person that she loved in this world. Their relationship was illicit because they were both married. However, Caroline and her estranged husband were not in good terms and she found solace in Ogweno.
In one of the most heartbreaking burial ceremonies ever witnessed by the police, John Ogweno was laid to rest last Friday in his native home in Homa Bay. He was buried in a place called Kojwach East.
His body had been passed through Nyagacho in Kericho County for viewing because he was well known there. That is the place where his family used to live.
During his burial ceremony, the Nakuru East Sub-County Police Commander Fanton Analo described Ogweno as an industrious, knowledgeable, sociable, and hardworking police officer.
READ ALSO: Autopsy Results Reveal the Real Cause of Caroline Kangogo's Death
As it is the norm during a police officer's burial, there has to be a 21 gun salute. This is a spectacle that attracts many Kenyan citizens towards attending such burials.
But many Kenyans were left disappointed after what happened at Constable John Ogweno's gun salute. It looks like the officers that were selected to do it never had enough time to practice for the show. It was not at all synchronized like it is seen in many other places.
Some police officers in the parade did not even get to shoot. Have a look at the short clip below obtained from the Nation Newspaper's YouTube channel.
Here are some of the comments from disappointed Kenyans after watching the video;
Cheza Chini wrote, "Whoever taught this firing party, firing drill should just go back to college for 3yrs with half salary. Some even didn't fire and you want us to call it 21 gun salute. Hakuna tofauti na sisi raia."
Felix Ketwo remarked, "You present first at the shoulders then fire 🔥. This drill, one was still cocking, he didn't fire."
Bcol B said, "Hawa ni Askari wa Kenya ama ni Watchman? Yani hii ndio drill mnafanya as if you're dancing. For sure police force needs a rehearsal nasio tafadhali."
Muturi M quipped, "Comedy galore. Police academy movies were true stories just that the location and time were changed."