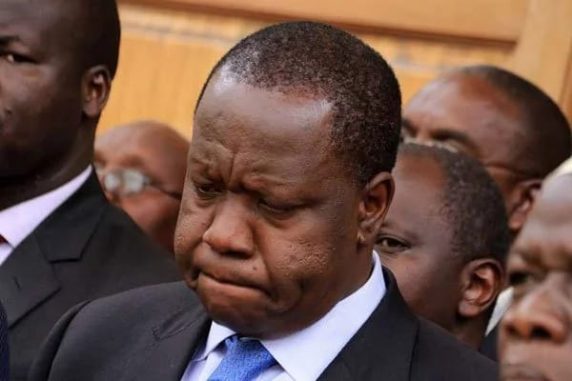 Matiang'i is the interior security cabinet secretary. He is a no-nonsense cabinet secretary and a man of action.
Matiang'i has done well in all ministries. He has been at the helm. President Uhuru Kenyatta seems to trust him.
Therefore, he is the super cabinet secretary that does all the work they meant for the deputy president
President Uhuru Kenyatta gave him all these powers after his deputy, William Ruto, absconded duty.
William Ruto has not been in his office for almost a year. He has been on the campaign trail since 2017 to succeed Uhuru.
Matiang'i and his permanent secretary doctor, Karanja Kibicho, don't see eye to eye with the deputy president and his political allies.
They have been setting political fires under their feet to force them to submit. The tough-headed men have failed to yield to pressure.
They have vowed to throw their weight behind former prime minister Raila Odinga.
The entire government machinery seems to push for the Raila presidency.
Matiang'i has done fairly well in the ministry, but has faced some serious challenges as well.
In the last few days, breaking news that the 3 most dangerous terrorists had escaped prison took Kenyans aback.
It is still a puzzle how they escaped from Kamiti Maximum prison with all the guards and CCTV security cameras.
Senior officials lost their jobs and are in custody to explain how they allowed the terrorists to escape.
The DCI and Anti-terror police unit promised a reward of 60million shillings to anyone that will provide information on the whereabouts of the convicts.
A villager in Kitui did that job meticulously and Kenyans expected the DCI to keep their end of the promise and give him the reward.
However, when asked by journalists yesterday at Kamiti, Matiang'i told journalists not to speculate and they will follow all due processes.
"No…no…no, we are not going there at the moment. Let us not be speculative about this. We are going to work on this meticulously, as my colleagues have said."
This comes when the entire region is in panic mode after ISIS bombed Uganda using suicide bombers.
They did so to prove to Museveni that they are in control and still powerful to do anything they want.
They communicated this through their online platforms.