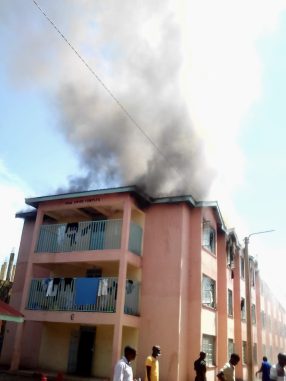 What is happening in Maranda Boys Highschool? This is the question most Kenyans are asking themselves.
The school has literally wasted an entire year because of sudden breaks following unrest from students.
After a wave of infernos in schools across the country, Most Kenyans thought we were over that devilish period after students went for half term break.
Maranda is one school that suffered after the students torched one of the new dormitory on fire, destroying property worth millions of shillings .
The dormitory has a capacity to host about 5oo students and was one of the newest buildings in the school.
Form fours closely followed this in the school, refusing to do their mock exams.
This was over the week, and they were all allowed home.
The school administration promise is that they will reschedule the exams once they report back from home.
Days later, the other remaining classes have torched another dormitory.
Apart from the indiscipline and fatigue, one wonders why these boys keep on destroying their school.
Word on the ground is that they have over 2000 students in form one and 600 in form four. The school has over four thousand students.
They have overstretched the limited resources in the school .
This is frustrating the students because even the quality of meals has gone down.
You can imagine what these students at Maranda Boys Highschool go through to take a shower? Monos are getting a hard time to compete for those resources.
The School deliberately over admitted form 1 students for reasons only know to them.
One wonders if they will perform well like they do in the coming Kenya Certificate of Secondary Education.
The ministry of Education, board of management, the church, Ministry of Health, Parents and students representatives should come together and find a lasting solution to various grievances.