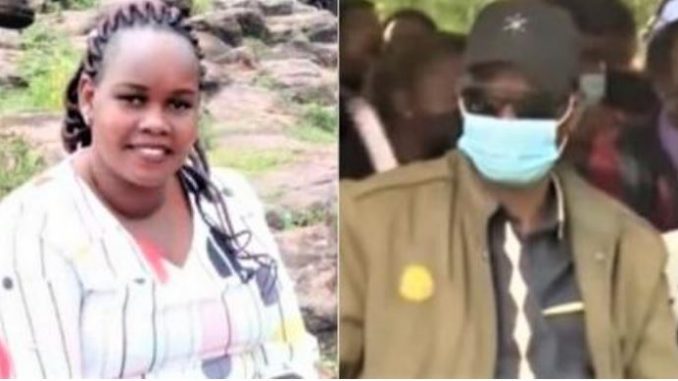 Caroline Kangogo was laid to rest today at her parent's home in Iten, Elgeyo Marakwet County. This comes after days of uncertainty following the delay by the government pathologist to perform post mortem on her body that has been lying in the mortuary.
At one point, her father who was visibly overwhelmed by emotions and disappointment following the cat and mouse game by the directorate of criminal investigations, shed tears on camera to express his anger and pain.
The detectives had to do a postmortem before allowing them to bury her. That finally happened on Tuesday and today she was buried by her family members and friends in a low-key funeral ceremony that was snubbed by police officers.
Also Read: Caroline Kangogo Given a Heroic Burial by Her Family, Relatives and Friends (PHOTO)
It is a norm in the police force that when one of them dies in the line of duty, they give that cop a heroic send-off by doing the gun salute. That didn't happen to Caroline because she took her own life after committing murder.
Her husband Richard Ngeno who has been keeping a low profile since the news broke that she was on the run after killing two men in cold blood attended her burial and hid his emotions behind the shades that he wore and sat next to his children.
He was given the chance to speak to the mourners but he politely declined the offer disappointing people who attended the funeral because they expected him to talk about what he thinks of his late wife and mother of his two children and how they have been coping with the pressure of dealing with the negativity surrounding his family due to what Caroline did.
Even though they separated 8 years ago, Richard is still the father of her children and he had to be there to offer them emotional support after how their mother ended her life in a very horrific manner.