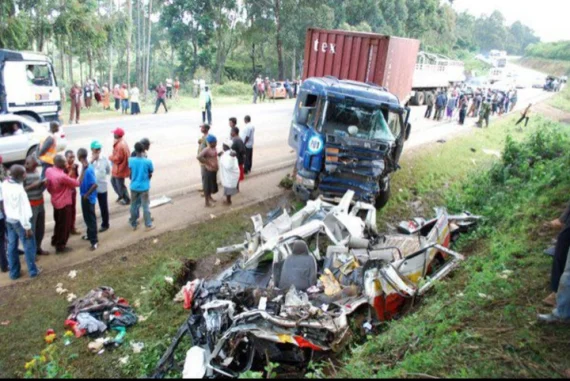 Webuye accident took the life of all the eight passengers that were aboard in a 2NK matatu.
The accident happened in the morning when the matatu heading to Nairobi from Bungoma hit a stationary truck.
It happened along Webuye-Eldoret Highway.
The driver of the matatu must have been at a top speed and he panicked when he saw the track packed on the road.
He tried to swerve to avoid hitting it, but he was too close to maneuver. The truck ripped the roof of the matatu and beheaded all the passengers.
According to the Star, the driver panicked when he suddenly saw a stationary lorry and attempted to dodge, but the lorry ripped off the roof, beheading all the occupants.
This tragic occurrence occurred just hours after another road accident along Webuye Road claimed the lives of eight people.
Unfortunately, no one survived the collision because the metal beheaded all the passengers and died on the spot.
Many Kenyans have shed tears because of this fatal road accident, as they witnessed a very traumatic incident in which lifeless bodies were on show on the road.
They have already brought the bodies to the mortuary for postmortem preservation before being identified and buried.
We call on all Kenyan to exercise caution while travelling on the roads because we are losing lives .
Desmond Tutu: Why they did not bury or Cremate Him
Desmond Tutu, a South African anti-apartheid activist, They gave him a state funeral at St George's Cathedral in Cape Town.
According to the Archbishop Tutu IP Trust and the Desmond and Leah Tutu Legacy Foundation, Tutu had his burial wishes.
Tutu's body underwent aquamation in a private ceremony following the requiem Mass and burial behind the pulpit.
They did this as per his instructions.The announcement about Tutu's preferred method of body disposal has sparked a discussion.