Waiguru has in the recent past, hinted she was heading to UDA.
Closer to Mashujaa day, she seemed to change tune after meeting the president, but she has finally her move.
She has portrayed herself as indecisive and a political opportunist who is gasping for new political life amidst confusing.
She told Wahiga Mwaura of Citizen TV that she will announce who she will support for president in February next year.
Doing it now means she is cunning and unpredictable or lost in the mucky waters of the Kenyan politics.
She is not so sure about disappointing Uhuru or fighting Ngirichi for the UDA ticket, a popular vehicle on the ground.
Waiguru is facing an uphill task to keep her seat as the governor of Kirinyaga, and only time will tell if she will do that.
She narrowly survived an impeachment motion thanks to president Uhuru Kenyatta and his counterpart Raila Odinga.
They rallied their troops to save her in the senate.
READ ALSO:
1: Chuka Man Brutally Kills Wife then Beheads Daughter
2: Gathoni Wamuchomba Reveals How Kibicho Outsmarted Them Almost Giving Ruto A Heart Attack
Waiguru joining UDA is not news but the timing of her maiden visit to the hustlers' mansion has posed many questions.
She has been a close ally of Uhuru, who is clearly not seeing eye to eye with the deputy president.
Joining Ruto on president Uhuru's birthday has sparked a debate among Kenyans.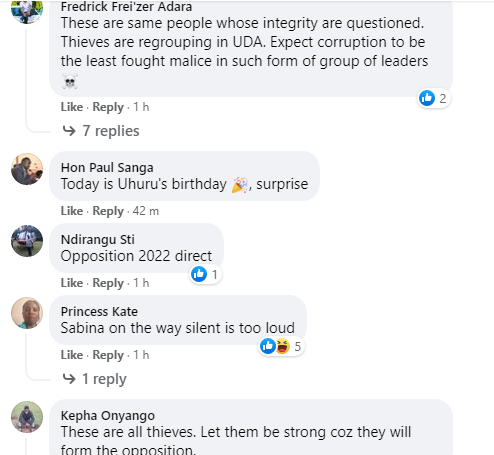 It is a powerful message to president Uhuru. Instead of surprising him with a gift like friends do, she surprised him with break up message.
The political landscape is shaping up, and we are going to see many realignments.
It will be interesting to see how Purity Wangui Ngirichi will handle the competition posed by her principal rival.
She has done so much for the party, only for an outsider to benefit from her hard work.