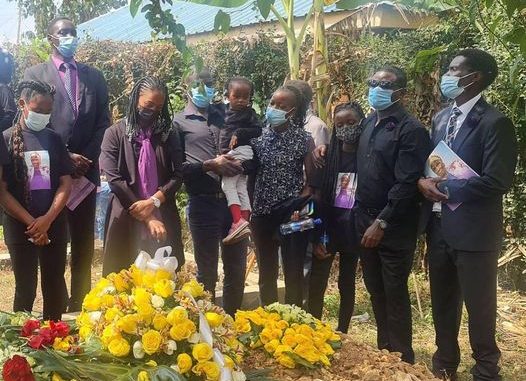 Diana Marua and the entire Kevin Bahati family were in Migori county yesterday to send off Diana's grandmother who died earlier sometime last week.
Diana was accompanied by her superstar husband Kevin Bahati and their kids and friends like DJ Kwenye Beat. The entourage arrived in Migori in a red Mercedes Benz and a Range Rover.
The visibly emotional Diana paid tribute to her departed grandmother and thanked her for bringing the best in her and she promised never to forget her in this life.
"It is well with my Soul, we lay you to rest today Shosh thank you for Bringing out the Best in me. You'll forever be in my Heart ".
Bahati took to his official social media accounts and thanked his friends for giving them moral support during this difficult moment in their life.
"Our Grandma was laid to Rest today thank You My Brothers for Going with My Wife @diana_marua and I to Migori for the Burial… This means a lot to Me Family Bahati wrote"
Also Read: "Unatuchezea akili!" Facebook DCI Expose a Man That Posted His Wife on a Popular Couples Group
Blogger Robert Alai was among the people that commented on Diana Marua's post and instead of condoling with her, he decided to throw shade at her for the way she referred to her grandmother.
According to Alai, in the Luo culture, a grandmother is called Dani and not Shoshi as Diana called her while a grandfather is called Kwaru.
Alai wondered why a typical Luo like Diana was comfortable and happy to borrow other cultures instead of embracing her own.
Robert Alai feels that what she did amounts to primitivity. His sentiments sparked a debate among her online fans who told him to mind his business.
"We don't call our grandmothers "Shosh" in Luoland. They are our Dani and grandfathers are Kwerewa or Kwaru. Tuwache ushamba".
Many Kenyans don't mind calling their grandmothers 'shosh' but I wonder why Robert Alai was irked by Diana's statement.