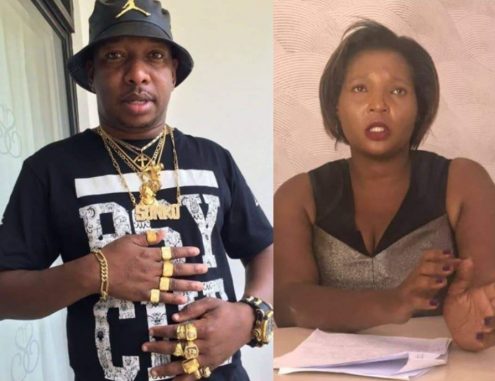 Former Nairobi City County Governor, Mike Sonko leaked a video that has shocked Kenyans. It is a video of Mary Nkatha. She was exposing her private parts during a video call. The video is currently circulating heavily on social media platforms.
Mary Nkatha is a former banker. We see her in the film chatting with Mike Sonko about what the Nairobi County Government was planning against him.
We see Sonko sipping Hennessy in the video while it is being recorded. In the video, he begs Nkatha to show him her boobs after they converse for a while.
During the video call, the woman enthusiastically shows her breast to him. Sonko leaked the footage last night to implicate top judges in bribery charges.
Following the unexpected revelation, Mary Nkatha alleged that Sonko's men had kidnapped her. They then forced her to take part in the film. She claims she did everything at gunpoint.
According to the woman, heavily armed guys from the Sonko security team kidnapped her. That is when they handed her a script to use in response to Sonko's video call.
READ ALSO:
1: 60 Million Kamiti Reward: Government Bows To Pressure Agrees To Pay Kitui Man
2: How Tamati Mauti Met His Death after Killing a White BBC Journalist
3: Tensions rise as unknown assailants assassinate a Kamiti Prison Warden in cold blood.
But looking at the video keenly, only a fool will believe the lady. She appears relaxed while having a chat with the former governor. At some point, she offered herself for a sex date with Sonko.
Nkatha was also heard identifying herself as a National Intelligence Service official in the video leak.
She made serious claims of graft against current Nairobi Governor Ann Kananu. Ann Kananu was sworn into office last week.
Other big fish that Mary implicated include barrister Cecil Miller, and High Court Judge Said Chitembwe.
"I was responding to Sonko's call at gunpoint. They told me to read what they wrote on paper," Nkatha revealed while in Karen Police Station.
The former banker is now requesting police protection. She said that her life is in danger as a result of the ongoing rivalry between her and the individuals involved.