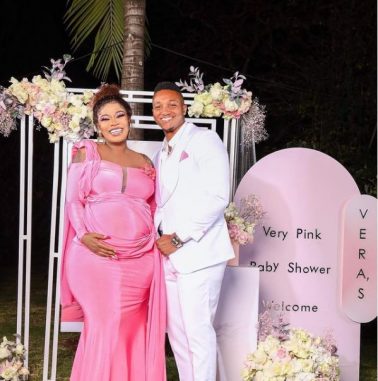 The Vera Sidika Baby Shower event took place in Nairobi's posh Lavington neighborhood. Kevin Obia, a controversial Nairobi businessman hosted the lavish party at his leafy home.
For those who might know, Kevin Obia (also known as Kevin Kleigh) is the guy that was sentenced in August this year after losing a gold scam case. He was sentenced to one year in jail with an option of a KES 300,000 fine. The fine is definitely pocket change for him.
A Nairobi court found him guilty of attempting to defraud an Austrian of about KES 14 million. He had pretended to be in a position to supply him with gold worth the amount.
Vera, through her IG stories, revealed that they have been friends with Kevin for more than 12 years. That is why he allowed her to use his private residence to host the pink themed party for free.
While Vera was busy posting on her IG stories the proceedings of the party, some nosy Kenyans noticed something unusual. She was not posting people enjoying food and drinks at the Vera Sidika Baby Shower.
The 32-year-old socialite only posted an old photo lifted directly from the Mialle Restaurant IG page. A hater wrote to controversial blogger Edgar Obare to investigate why there was seemingly no food or drinks at the invite only bash.
READ ALSO:
1. Form Four Boy Stabbed to Death During a Fight Over a Woman.
2. Polite Note To Camera Users In A Club Goes Viral After Saying This
3. Mbukinya Bus Involved In An Accident , Several People Feared Dead
The snoopy netizens seem to have rubbed Vera the wrong way. She addressed the concerns, albeit abusively. Vera termed those saying that there was no food in her party low lives.
"You cannot say there was no food and drinks at a party in which you were not invited. That is why you will continue being dumb, low life riff raffs living in bedsitters. In high end parties, buffet set ups are done away from the décor set ups," explained Vera.
The fact is, there was food only that the set up was some distance away from the beautifully set up décor. She later shared a short snippet of her guests enjoying some food.