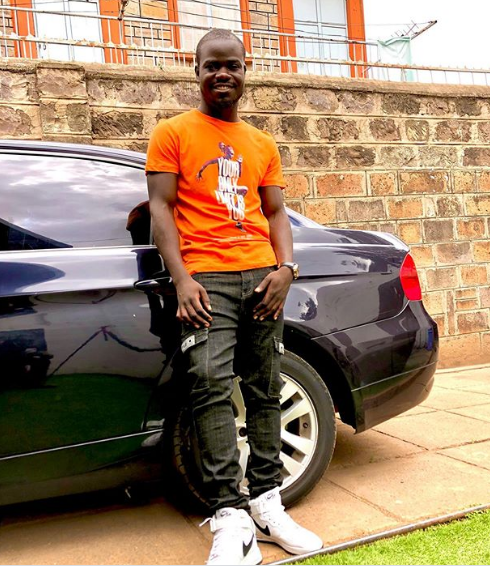 Comedian Mulamwa is one of the funniest professional comedians in Kenya. He has built his brand silently and his social media presence tells it all. Having recognized his huge influence in the online society, Mulamwa was given a marketing job to market Kenya cane. He is the official brand ambassador of the whiskey.

Sometime last week, Mulamwa flaunted bundles of cash which were in the excess of a hundred thousand according to the information he gave online in his official social media accounts. The comedian informed his followers that he was carrying the money to go and buy a piece of land because it will come in handy in the future when he needs the cash.

Mulamwa went ahead to advise his fellow comedians to invest when they are in their prime because you never know what tomorrow holds. Online content is dynamic and keeps on changing. Today you are the fan favorite but tomorrow another person with better content will arise and nobody will listen to you which means you have lost your only sense of livelihood.
Read Also:Ringtone Reveals The Old Mzungu Lady That's Allegedly Funding Mulamwah's Lifestyle
Now if you had not invested, you will start crying in the streets begging for help just like Omosh and other celebrities that made mistakes when they were on top of their game.
Gospelmusicianringtone tried to taint his image by claiming that his newfound cash and lifestyle was because of an old white sugar mummy he was dating.
Unfaced by those accusations, Mulamwa hit back at ringtone calling him an imposter who was faking success when he was struggling to make ends meet. Mulamwa is known to have invested in the transport sector and he owns a fleet of motorbikes.
Given his celebrity status and the kind of money he is making, one would expect the young man is living a luxurious lifestyle but to the surprise of his followers, he lives in a cheap apartment where he only pays 9k for his rent.

He revealed this to a fan who wanted to know how much he is paying for rent in a question-and-answer session with his fans.