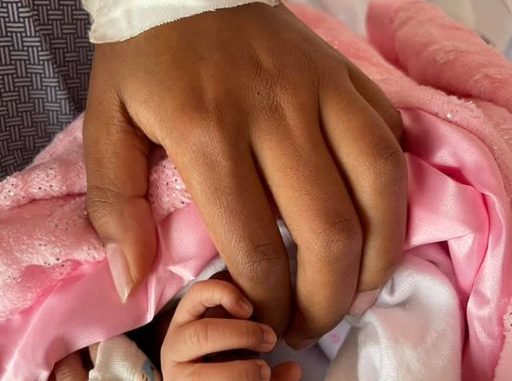 Mulamwah is the newest father in town after his girlfriend, Carol Sonnie, delivered a bouncing baby girl.
Mulamwah took to his official social media accounts to announce his bundle of joy.
The overly elated Mulamwah thanked his wife for being strong despite the struggle she has gone through in her pregnancy journey.
He also did not forget to thank God for the safe delivery of her daughter, who is healthy and beautiful.
" And it's a girl. A miracle just arrived …
Words can't express the feeling, it's the best thing to happen to our life. welcome sweetie

Keilah oyando"

. 
Thanks dear

Carrol sonie

for this amazing gift. You are such a powerful woman to pull this through despite everything we've been through.
Thank you all for wishing us well and keeping us in your prayers. Asanteni sana.
She is cute, can't wait for someday to show her to the world, and have a dad daughter talk. PROUD DAD I AM. All thanks to GOD" .
His fans and celebrity friends have congratulated, and he is now welcome to be a parent.
To be a parent can be challenging, but every one grows in it and eventually you learn your way through it.
As much as people are congratulating him, there are those that take advantage of every situation to crack our ribs.
Confirm DNA
This one particular fan teased him and challenged him to prove if indeed he is the father of his daughter Keila Oyando.
He asked him to post the ears of his daughter for Kenyans to see. This is precisely because people taunt Mulamwa for lacking ears.
I found this hilarious, but Mulamwah is yet to comment and rise to the challenge.
"Congratulations. Baadaye utatuonyesha masikio baadaye tuconfirm DNA. Big up! bro, she is such a blessing to you and to all of us.
For sure, she already has a better life than you ever did".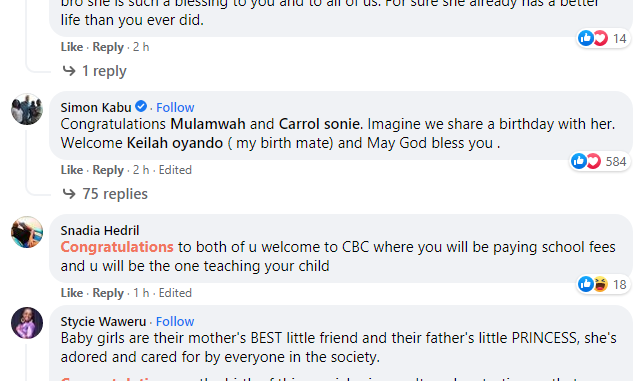 ALSO READ: