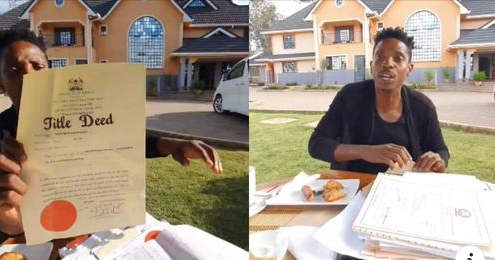 Erick Omondi yesterday displayed the Title Deed of the land where his alleged palatial home rests.
This is after people questioned the facts after they listed his home in airbnb.
Airbnb is a website where you lease out your house for who want to live in a home environment.
These people may be travellers, revellers or tourists who pay to have your house for some days or months, depending on the agreement.
In his defence,Erick confirms he has listed the house for those services because he is rarely home.
ALSO READ:
1: Size 8 Loses Her Unborn Baby But Here Is The Blunder She Made
This is because his work demands that he travel a lot throughout the world to have comedy gigs and make money.
What has shocked Kenyans, though, is that the title deed of the 141million rated property in the affluent estate.
The title deed displayed by Erick Omondi was about 0.1hecatres, which translates to a 50 by 100 plot size.
That size is too small for a palatial home like that with an enormous swimming pool, servant quarters and an ample parking.
He also confessed that he listed the house for Airbnb services and, from the title deed, he only gained that land on 7th September 2021.
Those are some inconsistencies that hawk eyed Kenyans have spotted in his defence that has convinces them that his publicity stunt flopped.
Yes, he would be a landowner at leafy suburbs of Karen, but not that one where the humongous house rests because it is massive.
The art of looking for relevancy through controversial means has become a norm among Kenyan celebrities because they know controversy sells more than anything else.
Those beefs they declare online are most of the time non-existent, but they do so to raise emotions among their supporters to trigger attention.
View this post on Instagram