Presidential campaigns are very expensive and they run into billions of shillings. It is not easy to do it alone and you need wealthy friends and partners to successfully campaign and win an election.
The kind of resources politicians put into their campaigns makes our politics very expensive and that is why our political campaigns are high octane with huge expectations at stake.
It is a do-or-die game for them. There are very few politicians who have the connections and networks to run such massive campaigns. In the coming general elections, various players who will be in the running in a bid to succeed President Uhuru Kenyatta are already building strong teams that will mobilize resources to win the race.
William Ruto who is the current deputy president of the Republic of Kenya is a major contender and he is the favorite to be president going by the latest opinion polls.
Also Read: Dennis Itumbi Embarrassed Badly after Making This Blunder While Attempting to Save DP Ruto's Face
His closest and only rival is former Prime Minister Raila Odinga who will give it a try probably for the last time given his advanced age.
According to Robert Alai, the Chinese government led by President Xi Jinping is the one funding all the political activities of William Ruto running to billions to enable him to win. He is doing so through president Yoweri Museveni of Uganda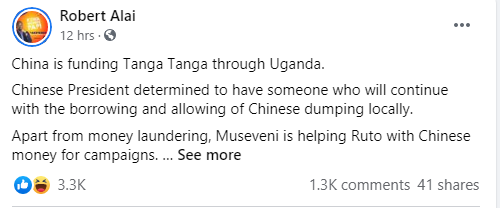 Alai further reported that the Chinese president feels that Ruto is the best candidate for the Chinese government to continue with their economic relationship with Kenya.
China has a special interest in Kenyan politics given its dominance in most sectors of the economy here in the country. Chinese companies are winning almost all government tenders and they don't want to lose that when Kenya gets a new president; that is why they are backing a perceived friendly candidate that will not dump china for Europe and America.