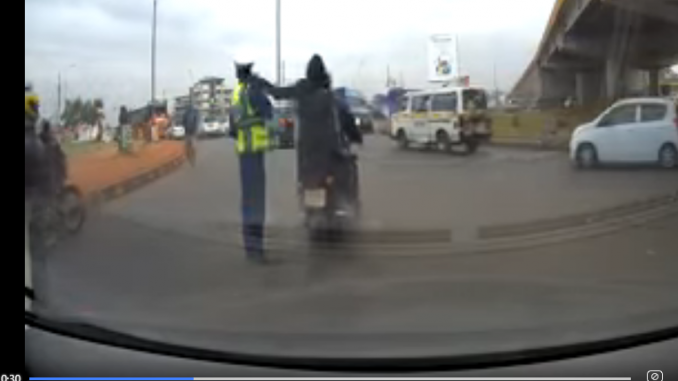 Sometimes back, men who were on a motorbike were captured on camera robbing a police officer. This is unheard of, nobody dares to steal from men in uniform.
It was on a busy Nairobi Road and a traffic policeman was on duty restoring order in the rush hours of the morning when those men snatched his phone and sped off.
The police officer looked inept and helpless as people watched on with shock. There are so many cases of phone snatching in the city of Nairobi due to the laxity in law enforcers and rising levels of unemployment.
According to the latest reports we are getting, the thieves were tracked and gunned down the same evening by the special police force in the city. One of the gangsters used to masquerade himself as an ordinary motorbike rider doing Boda Boda business but he was always armed with a pistol and a knife that he used to rob his customers with.
He was buried two weeks ago at his home in Murungaru. Robbers don't live long and the young men terrorizing Kenyans in Nairobi should look for any other hustle to do other stealing because the government is hot on their heels.
Also Read: Mediheal Hospital Exposed Badly For Practicing Open Racism
The chief inspector of police and the Nairobi commandant announced that they had formed a small unit within the police to deal with petty thieves in the streets of Nairobi.
The crime rate in Nairobi makes it one of the dangerous cities to live in after Lagos. The crime rate in the capital city of Nigeria is also very high and the government has no answers to such kind of insecurity.
The government must ensure the security of its citizens and their properties. How can you live in fear to walk around the streets of your home town or city because other people have decided that you can't have anything good? That is so sad and we need to do something about that by growing the economy and ensure people get jobs when they are done with their studies.
Click HERE to watch the video incase you missed it.