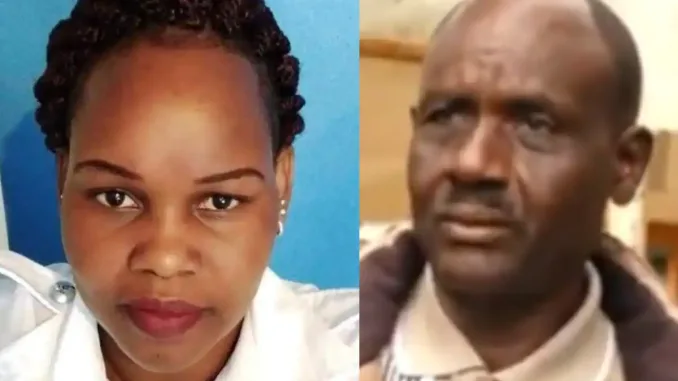 The past few weeks have been tough for the family of the late rogue cop Caroline Kangogo. She was found dead in her father's compound in the family bathroom.
The circumstances in which she killed herself are not well understood and the story given by her family and the police is not adding up.
A section of Kenyans feels that the DCI should come out clearly and clarify the hanging issues surrounding her death.
Her father who was also a police officer has dismissed the theories given by Kenyans insisting that his daughter committed suicide.
Caroline Kangogo is accused of killing two men in cold blood for various reasons as stated in her suicide note.
Corporal Oweno the police officer from Nakuru central police station was romantically involved with Caroline Kangogo and she killed him for breaking her heart.
The late Oweno was yesterday laid to rest and that has left Caroline Kangogo's family with anxiety because the government of Kenya has yet to release her body for burial.
In a story highlighted by the local TV stations, the family of Caroline Kangogo has claimed that the government is frustrating them and yet they don't have any case to answer.
Her visibly emotional father was seen crying live on TV and appealed for the government to release the remains of his daughter because the burial preparations are complete and they are waiting for the government to give them an okay to bury her.
Also Read: Why Caroline Kangogo Booked Two Hotel Rooms The Night Before Her Death; Waiter Reveals
The authorities have refused to release her body because the government pathologist has not conducted a postmortem on her body and her remains will not be released unless that report is ready.
How the government pathologist is dragging his feet in conducting that postmortem is the one that is frustrating the family of the deceased.
It is rare to see an elderly man shed ding tears live on TV. This demonstrates the kind of emotional pressure the Kangogo family has been under and they are eager to put the matter to rest once and for all.
We hope the concerned people have heard his cries and they are going to do the necessary to allow Caroline's family to give her a befitting send-off.
Click HERE to watch the video of her father crying on camera.