The deputy president is a bosom buddy of the Ugandan president Yoweri Museveni. This is affirmed by the frequent visits he pays the head of state. His visit is a friendly one rather than official because he is no longer assigned duties by the president of Kenya having fallen out politically and ideologically at least from the information we are getting from people that are close to him.

The deputy president posted this information on his official social media pages where he was seen launching a development project alongside his host, president Museveni.
This photo elicited so many reactions from his supporters and haters.
Also Read: Lawyer Cliff Ombeta Exposed For Being A Conman And The Trick He Uses In Court
Abrasive blogger and political commentator Robert Alai who is also eyeing a parliamentary seat in his home constituency of Nyando was among the people that commented on Ruto's Photo. According to Alai, Ruto was in Uganda to launder money.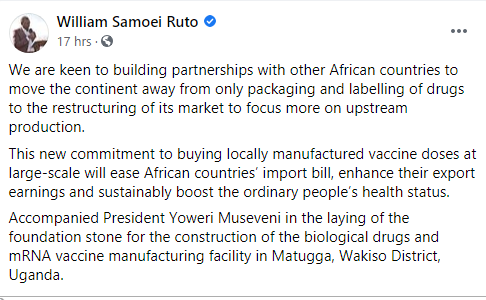 He further reiterated that the deputy president uses his powerful connections in Uganda to launder his billions before they are transported using a Toyota Probox to Kenya.
This is a serious allegation against the second in command because money laundering is a criminal activity and the authorities should swing in and investigate the matter.

It is not easy to trust bloggers who have political ambitions because he might be saying that to please his master who is the party leader for his preferred political party which is ODM.
The deputy president's media team is yet to respond to those allegations but they can as well ignore him not because it is true but as a strategy not to invite negative publicity that will taint his international image.

Politics has its rules and for you to succeed, you need powerful and wealthy friends by your side. William Ruto is the top contender in the coming general elections. He is hoping to succeed President Uhuru Kenyatta and he has been busy doing his groundwork and putting up a strong team that will challenge Raila Odinga.