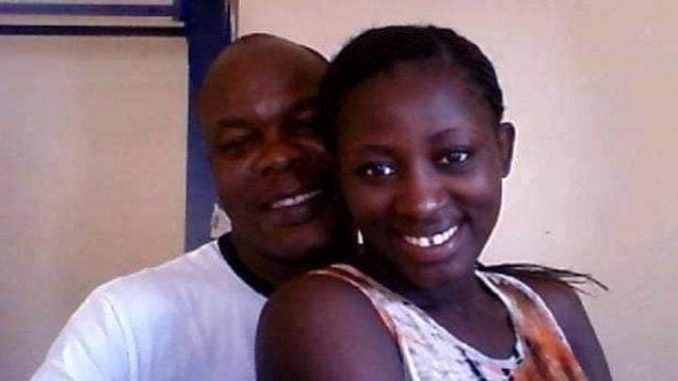 The Lady from Nyayo Estate Nairobi made headlines when she posted her Facebook account and confessed to her friends that she had infected over 100 men with HIV to revenge against men. Ruth who sounded depressed threatened to commit suicide after releasing photos of the men that she had allegedly infected with the deadly virus.
Ruth sent chills to the entire nation with that revelation and her father came forward to calm the situation by saying that she was not mentally stable and Kenyans should disregard all her statements because she needs psychiatric review and treatment over her depression.
Today Ruth has released a statement apologizing to all the men that have been embarrassed and damaged by the story. Ruth revealed that she is suffering because of the story and she had been Hospital since it broke out.
She refused to deny or accept the allegations but asked for her friends to continue praying for her. Ruth has revealed that she is a single mother and she will never commit suicide because she has a responsibility to take care of her son.
Ruth further revealed that her life is in danger after men she exposed threatened to kill her for damaging their reputation.
The men have been calling her family members and threatening them with death. Ruth has since ran away from home and she is admitted in undisclosed hospital undergoing treatment for depression and alcoholism.
Also Read: Ruth James Begs For Forgiveness After The HIV List Leaked And Reveals More Dreadful Details
She has disclosed that she is not the one that leaked those photos. It is the work of unnamed blogger who illegally accessed her account and leaked them.
Here is the full statement by Ruth;
PRESS RELEASE.
FROM: Ruth James (MIN NYANGILE)
I humbly write this while on tears, having been subjected to National troll and trending brought about by Tv stations, blogs, gazette and even on Radios.
I will not prove that am guilty over the allegations, rather than will only say sorry to the people that have been damaged emotionally by the trend.
I hereby confirm that am not the one who had posted the pictures that has been trending. It is one of the bloggers who went to my timeline and took out the pics.
Do you know how it hurts to trend nationally negatively with lies? All this time me lying on my sick bed?
All this even made two armed men to follow me in my house, only for one of the posted affected to follow me. Some even go ahead to call my sibling with private number to inform me that they will kill me.
I have been a laughing stock everywhere. Some, friends i thought would be there for me go ahead to do an audio of me with fake allegations. Awuoro kendo awuoro sana.
What i will say is this; the damage has already been done. Am sorry for the people whose pictures had been trending for no apparent reason.
Am sick and hospitalized far away from my apartment. I fear for my life. To a point of people following me where i stay. Am not safe.
To some it all, i have no justification to prove my guilt.
You will not change how people take you.
You will not change how people will judge you.
My reputation has been affected, thanks to the people and bloggers who have made me trend.
You are even killing me online with RIP messages that i have been got in the house killed.
Do you know the pain ya watu kupiga nduru kwetu ati nmekufa?
Mnaniua kwa nini online?
Mnataka nikufe sai niachie watoto nani?
You bloggers as a single parent nikifa kindly take care of my kid mf.
May God bless you all as you continue praying for me. I will always be strong,just for my family and kids. Thanks. May God bless you.
Signed
Ruth James, Madam Obodo."
Also Read: Ringtone Lies Exposed: See What He Was Caught Doing After Traveling To "South Africa" For Treatment