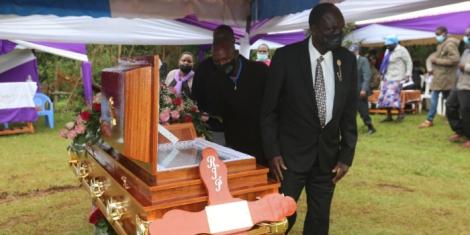 The rogue cop was laid to rest yesterday in her home at Iten, Elgeyo Marakwet county. Caroline Kangogo was buried according to the catholic church doctrines contrary to what happens with fallen soldiers.
When a police officer dies, they are given a 21 gun salute as a mark of the last respect but that did not happen in the case of Caroline Kangogo. This was seen as a case of disregard by her colleagues but it is understood given the circumstances surrounding her death.
She is regarded as a villain in the eyes of her colleagues because she killed one of them in cold blood. She was on the run for about ten days playing cat and mouse games with the detectives but she finally gave up after realizing the police were hot on her heels.
Caroline was found in the bathroom of her parents in a pool of blood with a gun in her hands. She had a bullet wound that had penetrated through her skull killing her instantly.
Also Read: What Caroline Kangogo's Husband Did At Her Burial Ceremony That Disappointed Mourners
When the police officers visited the crime scene, they discovered her phone that had a suicide note. Inside the note, there were reasons why she killed the two men who were close to her and gave out the conditions that should be met during her burial.
She even instructed her family to sell all her properties and pay the school fees for her brother in full. The family met some of the conditions but failed to honor some like;
1. Burying her in a wedding gown that her husband was not able to afford: The family did not bury her in a wedding gown and instead dressed her in a white dress like is in the catholic church burial ceremony norm.
2. Cremation of her body: The family ignored that wish because it is not in their culture to cremate bodies.
3. Her kids should not be under the care of her Ex-husband: Her Ex-husband Richard Ngeno sat close to his kids in the burial ceremony and from the look of things, he will go back to Mombasa with them. That is against what Caroline Kangogo said because she felt that her Ex-Husband is irresponsible.
4. Her EX- Husband should forgive her: He clearly hasn't come to terms with her death and that is why he declined to eulogize her at the funeral. He hid his emotions under the shades as the burial proceedings got underway.