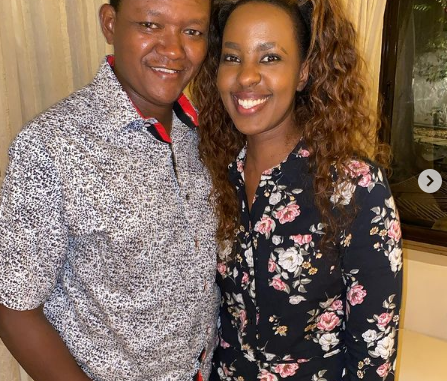 Machakos Governor Alfred Mutua and his beautiful wife Lillian Ng'ang'a mutually decided to end their marriage. The two have been living together for a decade as husband and wife.
Mutua divorced his first wife called DR. Josephine Thitu and they have Mutua have three kids together but he was yet to sire kids with Lillian Ng'anga'.
Lillian is the current first lady in Machakos county but she has officially resigned from that position after she decided to divorce the Machakos Governor.
In a statement sent through her official social media accounts, the beautiful lady revealed that they mutually decided to end the relationship two months ago but they will still remain to be friends.
Lillian further revealed that she decided to dump Mutua because the winds of change blew her way and she decided that she badly needed that change to make herself happy after staying with Mutua for years.
Also Read: Akothee Reveals When She Knew Her New 'Bae' Is A Real Man That Can Be Trusted
Alfred Mutua has also confirmed that they have indeed decided to end their union of 10 years.
"There is a song by Roger Whittaker that has the line: "the first time we said hello, we started to say goodbye."
Lillian and I have been a blessing to each other. Two months ago, we decided to slowly disengage. We are on amicable terms and remain very close as friends. We will continue to talk, meet and share ideas constantly.
Lillian has been an excellent First Lady and even though she will do some projects under the Lillian Nganga foundation, we have agreed she can continue with her county projects.
She will be a close advisor as I Govern Machakos County and run for President because I trust her sharp insight and heart. She has always been my number one fan. Our love for each other is permanent but I think at times, space and new directions are important.
I thank God for bringing Lillian into my life and the many ways we have made each other grow. We have had a laugh and at times a tear but all in all we have been a power couple and very happy. We celebrate life and are pleased that we have reached this decision in a mature, agreeable manner.
I am a happy and blessed man and we have agreed we will protect and support each other."
Here is the List of Things They Agreed On;
1.The separation is mutual meaning the divorce process will be smooth and maybe out of court settlement will suit them
2.They will continue being friends even after divorcing
3.Lillian Will still be his advisor
4.The projects she initiated as the first lady will continue.
5.She is no longer the first lady of Machakos County