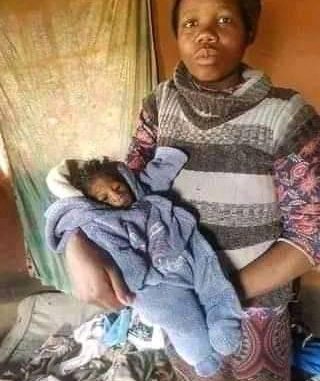 An 80-year-old looking baby was born in Libode, Eastern cape, South Africa.
The young lady 20 gave birth to a child that resembled an elderly grandfather of 80 years.
After a few days, a baby girl exhibited indications that were not typical of newborns.
Concerned midwives and the child's grandmother referred the baby to the hospital.
Her skin had aged and her hands had become deformed in the meantime.
Petros Majo, Director of the Khula Community Development Project, a children's rights organization, reacted to the situation.
According to medical specialists, the genetic abnormality is not inheritable
The illness is extremely rare, according to Doctor Martha Mayer, a neonatologist at the Nelson Mandela Academic Hospital.
Progeria is a hereditary disorder that causes a child to age more quickly.
Another issue is that these youngsters acquire heart problems and have a short lifespan.
In this hospital, we have never had a child with that condition.
It is extremely unusual, affecting perhaps one out of every four or eight million people, according to medical specialists.
We have become a laughingstock in the community. I have so many kids and I am not employed and now this happens."
When I hold her, I burst into tears," in the words of the devastated grandmother.
Her Request To The Government
Talking to the media, 20-year-old Ongeziwe Mtshobi, says that she wishes that the government would take this child away.
"This is my first child. I expected a baby that will make me happy.
I don't know how I will live a life with a child that is already looking this old at two months."
Her request to give up the baby is strange because mothers don't give up their newborns, no matter what happens.
Her age might play a part in her rejecting her 80 -year -old looking baby after carrying her for 9 wonderful months.
Mothers take care of their babies and love them the way they are.
The trolls she has been receiving have not helped matters, either.
ALSO READ:
1.Lady Announced She Is HIV Positive But See What She Got In Return
2.A Teacher Called In For An Emergency In Class By Her Students Only To Find This