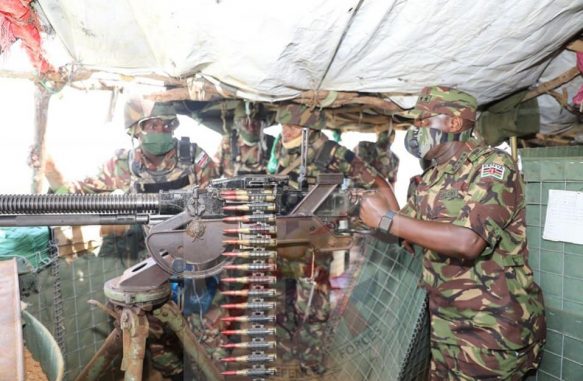 Kenya's military system is almost identical to that of the British army. This is because of the country's membership in the Commonwealth of Nations. Today, we detail the KDF salaries, as well as various advantages enjoyed by Kenyan military personnel.
There has recently been much controversy about whether they are adequately compensated. But you can only provide your view after witnessing the facts.
A fresh recruit in the KDF earns KES 7,172 per month.
KDF privates earn between KES 19,941 and KES 30,000.
Lance Corporals earn salaries ranging from KES 26,509 to KES 50,000.
Corporals earn wages ranging from KES 32,250 to KES 70,000.
Salary levels for captains range from KES 73,182 to KES 110,000.
The next position is Major, who earns between KES 102,106 and KES 150,000.
Lieutenant Colonels earn between KES 130,735 and KES 180,000.
8. Colonels' salaries range from KES 153,317 to KES 300,000.
There are also Lieutenant Generals whose salaries range from KES 632,984 to KES 800,000.
The Chief of Defence Forces is the highest-paid army official, receiving between KES 894,897 and KES 1M.
The above list outlines the KDF salaries.
Other wonderful benefits come with service in the Kenya Army, depending on your position. These perks make working for KDF appear to be an extremely profitable job.
ALSO READ:
1: Wilson Sossion Escapes Death By A Whisker
2: The Bars and Pubs in Nairobi with the Most Alcohol Sales
3. Monthly Salary of a Recce Squad Officer Revealed
A fresh recruit or cadet in the Kenyan Army, for example, will not have any financial difficulties while living in army quarters.
It is vital to note that all army employees receive a 50% discount on all consumables purchased within their barracks.
If the typical market price for three litres of cooking oil is KES 800, an army officer will spend only KES 400.
KDF personnel will also be paid handsomely if they are recruited for peacekeeping missions outside of Kenyan borders. During such missions, every KDF soldier receives between KES 5,000 and KES 10,000 per day. With these advantages, it is worthwhile to join KDF.
However, there are challenges to being a military officer that apply to all countries around the world. Rising through the ranks in the Army, for example, can be a challenging endeavor because there is always fierce competition among soldiers. You must be extraordinary in order to get promoted.