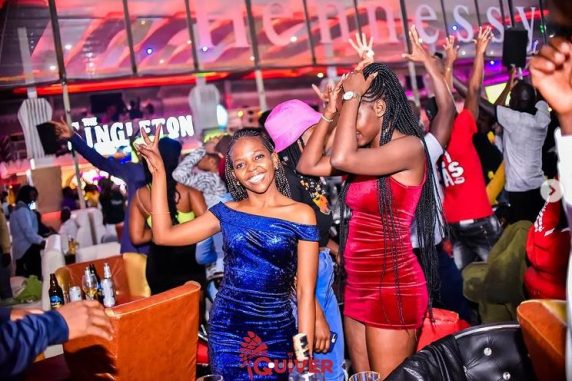 There is no doubt that bars, and pubs in Nairobi run a good percentage of the Kenyan economy. Whenever the Ministry of Finance wants to raise some money, they just raise the price of alcoholic beverages.
With or without curfew, Kenyans will find any excuse to be in a pub or a bar, devouring life with a big spoon and washing it down with their favorite tipple. For some rich people, the more expensive the drink is the better.
While they are in their favorite joints, you will hear lines like, "I don't go below Jack Daniels or Johnie Walker Blue Label!"
Another line that is becoming common in clubs is "Sherehe haitaki hasira (partying does not go well with anger or bad vibes)!
That is why many Kenyans are attached to their favorite bars. After a hard day of writing 'I hope this finds you well' on email, they love to drink a warm or cold one for the road amidst chatter.
Kenyans will be given a holiday to "reflect and pray for their country," and you can bet your last coin that the only reflection will be at the bottom of the glass, and the prayer will be to ask the server for another round.
ALSO READ:
1: "You Tried to Kill Juliani and Lillian!" Boniface Mwangi Exposes Alfred Mutua
2: Agnes Tirop's Family Reveals the Evil Thing Her Killer Husband Did While She Was at Olympics
3. Francis Atwoli to Jeff Koinange: "You'll go to Jail and Lose Property if Ruto Becomes President!"
While many bars and pubs expects customers to fill their seats, not all pubs are made equal.
A report by Citizen Digital has revealed a list of the most profitable pubs and bars in Nairobi and its environs in terms of alcohol sales.
For obvious reasons, they did not reveal their source. These are the entertainment establishments that sell the most alcohol;
The Quiver Lounge, Thika Road, opposite Garden City
Green Spot, By-pass, Ruiru
Hornbill, Rongai
Castle Gardens, Garden Estate
Klub Laviva, Ruiru
OJ Reloaded, Ruiru
Roast House, Kodja
XS Millionaires, Baricho Road
Harry's Tavern, Umoja
Switch Lounge, Kasarani
Game Changer Lounge, Kasarani
The Bar Next Door, Othaya Road
The Velar Lounge, Kahawa Wendani
1824, Lang'ata