South Africa's former president  Jacob Zuma is currently serving a jail term after he was charged for contempt of court while he was still in power.
Jacob was scheduled to appear in court to testify in a corruption case but he never showed up.
He is serving a 15-month jail term for failing to honor court summons.
Violence broke out in sections of the country to protest his arrest but the rule of law prevailed.
 The court upheld its decision to charge him for contempt despite political pressure from his supporters.
The veteran politician stepped down as president back in 2018 due to allegations of corruption and state capture.
The ANC party pressured him to resign or face a vote of no confidence.
He opted to resign to avoid the embarrassment of having to be impeached.
Jacob was earlier this month admitted to a prison hospital. He underwent surgery for a undisclosed surgical condition.
He is currently recuperating in Hospital and his trial has been pushed to September 9.
Jacob Zuma has appealed to his supporters and South Africans of good will to help him raise legal fees.
Also Read: Natasha Thahane Tells Off Haters after Posting This Message
This message was sent through his foundation on Twitter along with a bank account to where the money should be sent to.
"We humbly request for donations support to help cover the legal fees of our patron," 
This has sparked a huge debate among South Africans who feel that he is trying to whip up the emotions of his supporters.
The aim is to try and trigger demonstrations and violence to pressure the courts to release him.
President Zuma's supporters have vowed to raise the money that is almost 20 million Rand.
Those opposed to him and his kind of politics have argued that he is a rich man who enjoyed life alone when he was in power.
Zuma can easily raise that money from his wealthy family and friends.
His critics have taken issue with his honesty because his wristwatches alone cost millions of South African Rand.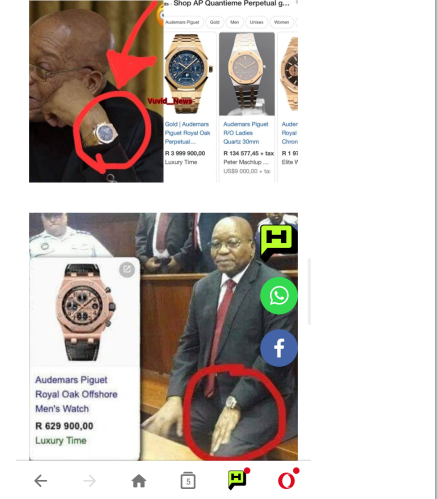 Zuma has been seen before putting on an Audemars which is valued at 4million Rand.
He also owns a Rolex which is valued at 500k Rand and many more which tells you that the guy is wealthy.