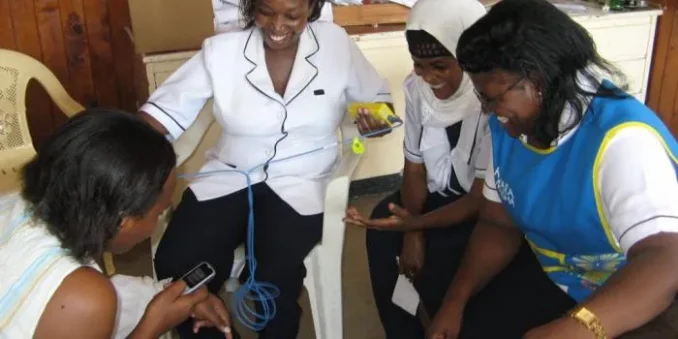 Nurses made headlines when they failed to pass a basic English test to secure high-paying jobs in the UK.
Only ten people out of 300 who took the test passed, meaning 290 people cannot work in the United Kingdom.
This is according to health cabinet secretary, Mutahi Kagwe. Kagwe was speaking in the scientific conference for clinical officers.
Kenyans have been trolling nurses since the information came out.
The nurses union has called out Mutahi Kagwe for releasing that information to the public.
According to the union, the information leaked by Mutahi Kagwe was not accurate.
Without providing evidence to back up their assertions, the nurses stated it is impossible to disclose such a large miss
Morris Opetu, Deputy Secretary General of the Kenya Union of Nurses, claimed that it is not possible to have a high failure rate.
This is because Kenya is an English-speaking country. It was unrealistic to expect nearly 300 nurses to fail the test.
"I disagree with the assertion that nurses failed the English test. Nurses have been in school for many years and speak the language.
He chastised the CS for making public what were private findings.
They even pulled Cuban physicians and other health workers from other countries to Kenya .
They never tested before being offered lucrative government employment.
"At least two months' notice is sufficient for you to study for and take a test effectively."
"They didn't do that and as a result, I disagree with the CS's assertion that Kenyans failed the English test," Opetu stated emphatically.
What Nurses Lost In Terms Of Salaries?
They pay nurses working abroad between Ksh600,000 and Ksh800,000 per month, according to Opetu.
"Examinations, whether British or Kenyan, are a personal matter that should not be a contagious topic in public.
READ ALSO:
1:'Don't Elect Thieves And Thugs Who Will Ruin My Legacy', Uhuru Warns Kikuyus
2: Chief Justice Martha Koome Tells Off Willy Mutunga For His Unreasonable Call
He remarked, "We should not be ashamed or looked down upon by other health personnel."
Florence Munoru, a nursing lecturer at Karatina University, explained that the British oral English test was about pronunciation.
"Patients have a high regard for us and the treatment we provide.
Even the Cuban doctors who treat our patients are unable to communicate in the local accent.
It's beneficial to expose them to the same setting and circumstances that other nurses face," Munoru said.
Specialist Language Courses (SLC put the Kenyan nurses through an online English test).
It is mostly concerned with everyday words and phrases.
It usually comprises 60 multiple-choice questions, and they expect nurses to complete them in under 20 minutes.
They also have to take the OET Placement Test, which is divided into four sections:
Reading, listening, writing, and speaking. They complete and submit almost all of them via the internet.