Stephen Letoo, a top reporter for Citizen TV, has broken up with his baby mom Winnie Nadupoi.
Leto travelled to Mombasa to celebrate his birthday without Winnie, which sparked reports of their breakup.
He also removed her pictures from his Instagram account.
He also wished his son a happy birthday in the post without tagging her, adding, "Son, you continue to grow like a warrior at 2."
The crimson and choking beads around your neck recount Leyian Santino Letoo's story.
A youthful pastoralist with a desire to stab the skies.
"I make a plea that God becomes your protection and shield as you celebrate your second birthday, my best friend.
Eyden, you have one more duty to complete…a lion awaits you.
Because you, like your father, are a warrior, you must skin it alive… "Happy Birthday, Son," I said.
According to sources close to the matter, the two are no longer dating, with Letoo posting a mysterious remark on Facebook.
In the aftermath of Nick Ndeda and Muthoni's shock, July has officially begun as a heartbreak season.
"I permit polygamy in our African tradition. Let us all rejoice in it."
After news of the breakup circulated, Letoo took to Facebook to express her feelings.
After the birth of their son, the Citizen TV reporter presented his baby mom to Kenyans for the first time in 2019.
" Young ones are like miniature suns that somehow bring warmth, joy, and light into our lives…
A baby represents God's belief that life should continue. They serve as a link to the.
As a special gift from God, I present Baby Santino L'eyian L'etoo @santinoleyian to the world, as a sign of Peace @winnienadupoi," Stephen Letoo wrote.
Stephen Letoo's New Woman
The gifted news reporter has hinted yet again that he has finally moved on from his tragedy.
Using his social media accounts, "When it rains, it pours," Letoo wrote.
He accompanied the statement with a photo of a stunning woman named simply as Edy Naeku.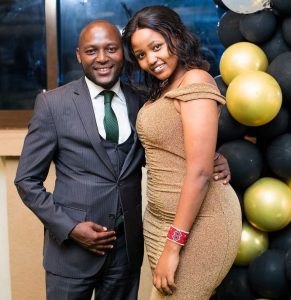 ALSO READ:
1: A Banking Firm To Pay 143k To People Willing To Watch 13 Scariest Movies
2: Karen Nyamu Reveals What She Really Thinks of Samidoh's Wife