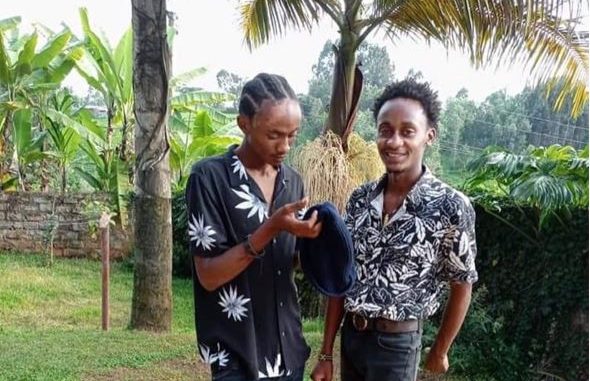 Kenyans are really mad after two brothers Benson Ndwiga and Emmanuel Mutura were allegedly murdered by the police in Kianjokoma, a small market in Embu County. That is why there is a trending hashtag saying #JusticeForTheKianjokomaBrothers.
The two are said to have been arrested for flouting COVID-19 curfew rules. An eye witness that recorded a statement with the police and talked to journalists said that 19-year-old Emmanuel was the first one to be arrested.
The young man had a small argument with the officers who hit him in the head until he lost consciousness. That is when Benson came to his brother's rescue and they hit him too.
They were bundled in the front seat of the police vehicle together with other Kianjokoma residents that had also been apprehended.
On reaching Manyatta Police Station where the officers are stationed, other people were told to alight as the two brothers remained in the Land cruiser.
READ ALSO: It Is Not His Fault: Karen Nyamu's Ex-Husband Vindicates Samidoh By Saying This About Her
"We thought they were being taken to the hospital because they were really in bad shape," narrated the witness.
Fast forward to a day later, their parents John Ndwiga and Catherine Wawira were informed that bodies of their two sons had been identified in Embu Mortuary. The people of Kianjokoma became mad. There were demonstrations in the small centre.
National assembly speaker Justin Muturi who visited the family made some remarks that tend to expose the perpetrators of the heinous crime.
"The officers left their vehicle in Kianjokoma Market so that people can burn it and unknowingly destroy evidence. They knew what they were doing. They executed the boys and now they have interfered with evidence. It is not a coincidence that the vehicle which carried the bodies is the same one that was torched by angry youths" said Muturi.
The officers that arrested the brothers made claims that they jumped out of a moving vehicle.
But the government pathologist's autopsy report revealed otherwise. Emmanuel and Benson were hit in their heads repeatedly by blunt objects.
Their mother fainted during her two sons' burial because she could not take the pain. They were buried in one grave.