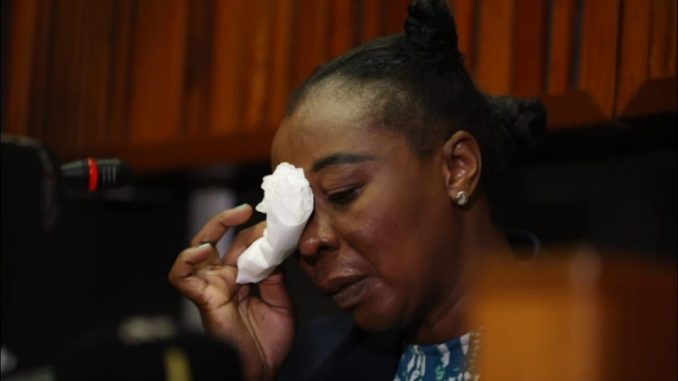 Serial killer officer shocked the court in South Africa after sobbing at the loss of her boyfriend.
Nomia Rosemary Ndlovu, a murder suspect and former policewoman, sobbed and grieved throughout her testimony.
She was testifying in one of the six murders they accused her of committing.
Judge Ramarumo Monama paused the case for the accused to gather herself.
Ndlovu remained calm throughout her evidence in connection with her late boyfriend, Maurice Mabasa.
The prosecution is suspecting her of murdering her boyfriend, but she broke down and cried as her lawyer led her through her statement.
According to the court, the couple was cohabiting for 4 years at the time of Mabasa's murder, according to the court.
The serial killer cop told the court that Mabasa had not returned home after working a night shift on October 14, 2015.
Mabasa worked as a security officer at the American Embassy in Pretoria
She claimed she tried calling him on two of his telephones, but they were both turned off.
"I became concerned and contacted his brother, Justice Mabasa, who promised to contact him," Ndlovu added.
Ndlovu claimed she called Mabasa's employer to see if he was at work, but was told he had gone home.
"I then proceeded to the police station in Olifantsfontein to report him missing. A police officer approached me in the trauma room.
The officer then informed me they had discovered a man's body in the precinct the previous morning.
According to the officer, they discovered cards on his person and identified him as Maurice Mabasa," Ndlovu added.
People Mabasa's body discovered dumped near Olifantsfontein with over 80 stab wounds.
Men Salivating Over Sjava's Hot New Girlfriend
Celebrities like to keep their private lives under the wraps because of the social media scrutiny.
Exposing your loved ones to the public when you are prominent poses a risk because your haters may want to target them.
This will harm them emotionally and physically.
Sjava is one of them that has done that exactly till now when a young lady came out to claim she is the one dating him.
ALSO READ:Makhadzi Was Married Before Or She Is Just A Clout Chaser?