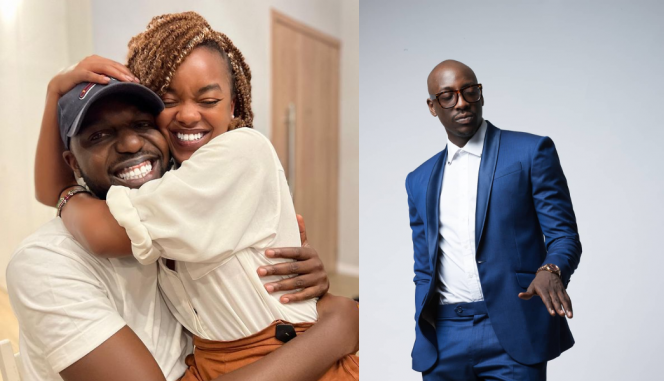 Sauti Sol's Bien has sparked an online debate while commenting on Edith Kimani's post.
Edith Kimani posted a photo on her Instagram page and captioned it "my sweet Larry madowo".
Larry also did the same on his page. This has sparked dating rumors between the former KTN colleagues.
The photos they posted are so suggestive because buddies don't embrace like that.
According to Sauti Sol's Bien, Edith Kimani has been having a thing for bald men that has spanned for a very long time.
In his post, Bien says that he is happy for her because she has finally fulfilled her dreams by bagging a bald man.
He wished her the very best in her union with Larry Madowo.
"I knew you have always been looking for a Bald Man. Congratulations on bagging yourself one. And they lived happily ever after, " Bien posted.
Edith replied by warning Bien not to reveal her secret to the public.
@bienaimesol Baraza unaSHOUT!!!!!!!!!!!
Larry Madowo is currently working at CNN. The talented journalist and news anchor is right now on top of his game.
He has worked in top media stations across the world, and he is living his dream.
One thing that has been missing in his life is a woman. This has been a concern among his fans, but it seems he has moved to correct that.
Edith Kimani is former KTN journalist, is now a news anchor and correspondent for Deutsche Welle (DW), a German news organization.
READ ALSO:
1: Larry Madowo Dating Edith Kimani? This Photo Speaks Volumes.
2: Former President Mwai Kibaki Misses Funeral Of His Brother
3:Never Mock God; what is happening to Pastor Nganga of Neno Evangelism