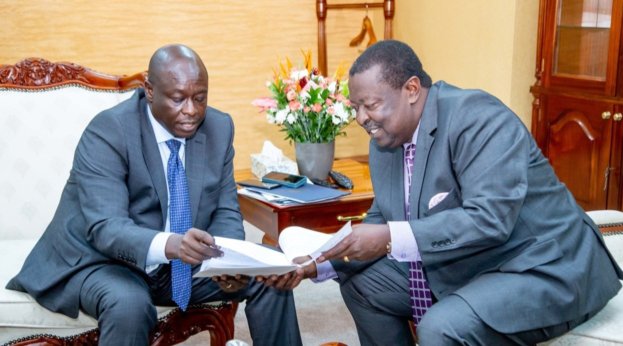 Gachagua, popularly known as Riggy G, is the current deputy president of the Republic of Kenya.
He is naturally the second most powerful man in Kenya.
Political expediency and the need to keep political promises and every politician happy.
It has forced the president to come up with a political office to accommodate former deputy prime minister Musalia Mudavadi.
Mudavadi is the prime cabinet secretary, a position that the constitution does not recognize.
The nature of our politics and the way we respond to the rule of law means he is in office discharging his mandate.
His core function is to overseeing the Public Service Performance Management Unit and the government delivery services.
Besides assisting the president and his deputy, Mudavadi's roles include supervising ministries and state departments.
He also coordinates the government legislative agenda with Parliament.
There have been claims that Mudavadi and Gachagua are in supremacy battles.
READ ALSO: Laikipia Bandits Captured On A Drone Doing This Leaves The Police Scratching Their Heads
Even though the two leaders have come out to dismiss the claims, this new move will cause tension among them.
This will settle the debate about who is more powerful between Musalia Mudavadi and Rigathi Gachagua.
In the new budget estimates, they have allocated the office of the prime cabinet secretary 300 million more.
Treasury has allocated Mr Mudavadi's office Sh751.9 million for its recurrent budget in the revised 2022/2023 public expenditure plans.
Mr Gachagua's office allocation is Sh450.85 million.
Gachagua Political Moves
The deputy president close political allies will see this as a deliberate attempt to undermine the deputy president and clip his wings.
Gachagua has been making his own moves by consolidating his Mount Kenya support. He has united all the politicians behind him.
Riggy G made sure Jubilee elected leaders joined UDA and unceremoniously left Azimio by staging a coup against their secretary general, Jeremiah Kioni.
Kioni's unwavering support of Raila Odinga is a stumbling block to Gachagua's attempt to have all the Jubilee elected leaders supporting the ruling party.