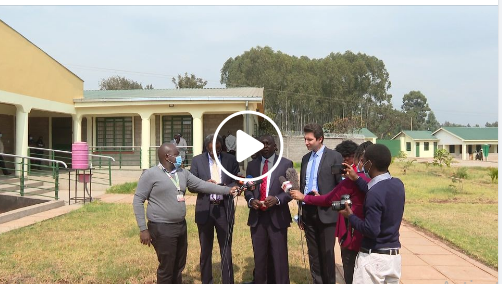 Harun Aydin is a controversial Turkish national who was arrested on Friday at Wilson Airport after jetting in from Uganda. The businessman has been a subject of discussion in the country after his association with terrorist activities.
Harun has been a close associate of the deputy president and their nature of business is not well understood. Oscar Sudi had earlier indicated that he is a farmer of modern fruits but the deputy president said that he secured him a 15 billion shillings loan from Equity Bank to set up a vaccine manufacturing company in Uganda.
The issue sparked a debate within the country with a section of Kenyans feeling that the government was acting irrationally in arresting the Turkish man. His arrest is deemed as a way to frustrate the deputy president to force him into submission.
Also Read: This How It Ended For The Motorbike Thief That Snatched A Police Officers' Phone
Harun has a history of having been charged with a ploy to cause violence and terrorism in 2000 in Frankfurt, Germany. He was found in possession of tools that we believed to be used to assemble bombs.
The government of Kenya is accusing him of funding terrorists in Africa and his presence within our borders possesses a security threat to the citizens of this country.
He was expected to arraign in court today but that did not happen and the DCI decided to deport him to his country. It is not yet clear why they failed to present him in court and the lawyers that were hired for him by the deputy president and his friends shared their frustrations and vowed to use the lawyer to compel the government to allow Harun to come back to Kenya and continue with his investments.
Ahmednassir Mohammed wondered why the DCI chickened out of presenting him in court but went ahead to confirm that all those accusations by the government were fabricated and politically instigated to prove a point against the deputy president William Ruto.
Click HERE to watch the video