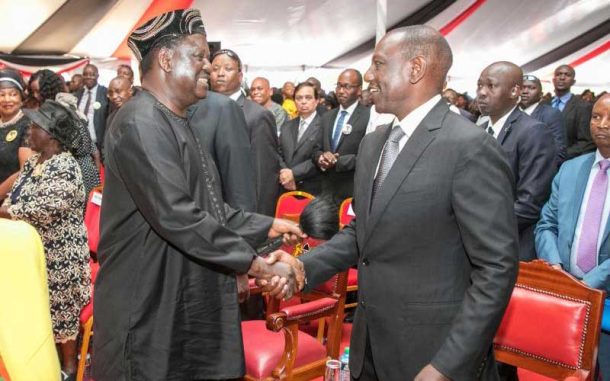 Ruto is the current president of the republic of Kenya after trashing Raila Odinga in the 2022 August elections.
Here is barely 6 months in office, but he is already feeling the heat from Kenyans, who feel that he is not doing enough.
The plummeting economy coupled by a ravaging draught has not made things easier for the Sugoi born charismatic leader.
The opposition has turned tables on him after the initial onslaught on their coalition.
The opposition hemorrhage portrays the glim picture of the Kenyan politics.
Politicians in Kenya swear allegiance to their stomachs other than the people that elected them.
Ultimately, everyone has a price.
Opposition alleges that president Ruto is buying off its members to weaken them a claim that the president has vehemently denied.
Opposition leader Raila Odinga lost his job where he was the chief representative on infrastructural development in AU.
In a letter written by the chairperson of the African Union Moussa Faki Mahamat, the union thanked Mr. Odinga for his service to Africa.
Raila lost his job 8 months before the lapse of his tenure.
Raila noted in a quick rejoinder to the statement how he requested to be relieved of his duties.
This is largely due to pressing matters in the country that he must attend to.
According to political and diplomatic sources, his sack came after he announced his intention to call for mass action.
Raila is pushing for IEBC reforms and lowering of the high cost of living.
Ruto has dared him to go ahead with his demonstrations but he won't accommodate him in government.
So is the president laying ground to arrest Raila Odinga? We all know that there is a class of people in Kenya that cannot face arrest.
Raila is one of them, given that he is a diplomat of a foreign envoy/Mission(African Union).
ALSO READ: Alcohol,Drugs And Women: The Fall Of Magix Enga