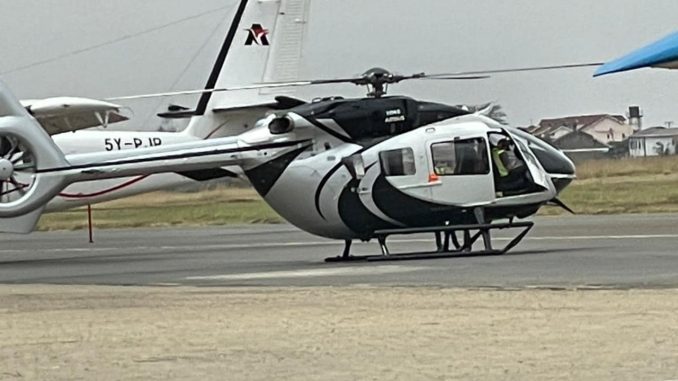 William Ruto has finally been cleared to travel to Uganda for private business. Ruto used his chopper from Wilson Airport to Uganda after meeting all the necessary conditions given by the Government.
He is set to link up with Oscar Sudi, Ndindi Nyoro, Harun Aydin, and others before going to see the head of state who is his host.
His regular visit to Uganda, Zanzibar, Sudan, and Ethiopia with the same Turkish guy who is a dangerous Terror suspect has caused jitters in the country of what they could be planning few months to the coming general elections in which he is the main player.
Harun Aydin has been charged before with conspiracy to cause violence in Frankfurt and cologne, Germany after he was caught with a bag full of explosives.
Also Read:Cheating Already? Betty Kyallo Caught On Camera Kissing another Man; Poor Nick Ndeda (VIDEO)
Kapsaret member of parliament Oscar Sudi has confirmed that their meeting is about clean business. According to Sudi, Harun is a farmer who is interested in modern fruits. We are yet to understand what are modern fruits but one wonders why they are taking an investor across Eastern Africa in private jets instead of encouraging those investors to invest in Kenya so that hustlers can get jobs.
According to Robert Alai, William Ruto is set to meet the Uganda electro commission under the supervision of Yoweri Museveni and the directors of smart Metic who handled elections in Uganda last year.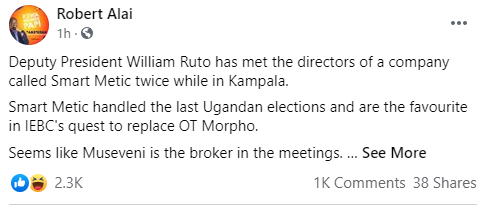 Ruto has a plan to replace OT MORPHO with SMART METIC to aid him to rig the elections. Alai further revealed that Museveni is the broker in these deals and wants his friend to be the president of Kenya.
He also revealed that Ruto will collect his laundered money through Stabex which he owns through proxies.
These are serious allegations by Robert Alai and if by any chance the things he is saying are true then the next general elections will be marred by rigging and violence unless the government of Kenya steps in prevents those criminal activities.