Ringtone, alias Alex Apoko, is on the verge of losing his luxurious Runda mansion.
This is after the administrator of the property came knocking with demands to vacate immediately.
They have given Ringtone 10 days to leave the house or face being forcibly evicted, according to records in our possession.
Mona Ingegerd Bjorklund, a Swedish national who died on July 5, 2007, owned the house where ringtone currently lives.
We can find it on the property L.R. 7785/94.
It's unclear how Ringtone got it, although he told The Nairobian in 2019 that a "Mzungu" left him a Ksh500 million home.
He however later amended his story.saying he bought it with money he earned from motivational speaking and stage acts.
In 2019, he announced he had a second residence in Karen.
ALSO READ:
1: Why Jalang'o Sold All Of His Cars And No longer Owns One
2: Pandora's Papers Expose On Uhuru Billions, Ruto's Hand And Facts
Ringtone got the property fraudulently, according to a letter from AGN Kamau Advocates dated September 28, 2021.
"The Law of Succession Act requires an estate's administrator to gather all relevant information as soon as possible.
It is clearly within the knowledge of the said administrator you trespassed upon the estate's property designates L.R. 7785/94 IS NO.
33637 at all material times, illegally, unlawfully, and with no color of right whatever. You have continued to trespass to this day.
Our instructions are to send you to notice, which we therefore do, asking you to stop trespassing immediately.
We also ask you to return over the property to our client through us within 10 days of the date," the letter said in part.
"If you cannot comply, we have firm and complete instructions to start eviction proceedings against you.
we issue necessary orders to have you, your agents, workers, servants, possessions, and other property removed without further notice.
We've also been told to file the same lawsuit in order to get damages for trespassed mesne profits, as well as other appropriate remedies."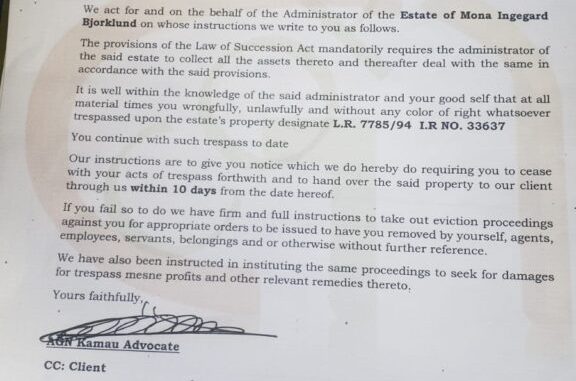 From the above statement, it is clear Ringtone is not the owner of the house he has been bragging about on social media.
He gained the properties of a dead swiss national and the riches he claims to have belongs to another man whose family wants everything back.
Now, where will Ringtone hide after tormenting other artists and calling them poor? We will be keen to see how navigates from this mess.