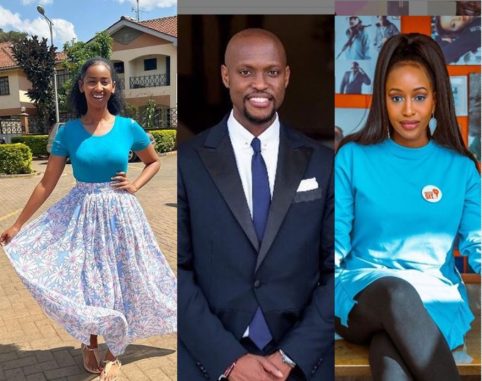 Eddie Ndichu dated Citizen TV actress Sarah Hassan before marrying Janet Mbugua. The guy has hit the headlines for all the wrong reasons. His twin brother Paul Ndichu is also in the mix.
Close friends have exposed the two brothers as being very violent and arrogant. If anyone crosses paths with them the wrong way, they always threaten them with their licensed firearms. They also brag about knowing people in high places.
"We are friends with the twins. I can tell you for sure that these guys are violent and they use all types of drugs. They are also womanizers. I might not reveal too much but ask around what actress Sarah Hassan went through in the hands of Eddie," said an anonymous whistleblower that wrote to Edgar Obare.
He depressed Sarah Hassan
Sarah Hassan went through mental torture before Janet came into the picture. She lived with Eddie at the posh Upper Hill neighborhood in Nairobi.
Sometimes the guy could kick her out even at night. He also used to cheat on her openly. The beautiful lady could not open up even to her close friends because she was, and still is a public figure. Eddie used to humiliate her a lot.
The former Tahidi High actress used to be depressed most of the time while she was dating him. One notable pattern with the Ndichu twins is that they always go for women who have a lot to lose. They then demean them badly.
ALSO READ:
1: Sad Details of Sindege Mayaka, the 85-yr-old Woman that was lynched in Kisii over Witchcraft Claims
2: Juliani Blasts Boniface Mwangi for Posting Their Romantic Photos Online
3. Janet Mbugua's Ex-Husband Eddie Ndichu Involved in an Ugly Scandal
That is why when they choose to separate from any of them, they do so silently. Janet never announced that she had separated from Eddie. She did so silently and they are now co-parenting. The Inua Dada Organization founder never wanted drama with bloggers.
When Paul Ndichu was dating voluptuous NTV presenter Grace Msalame, he was very violent towards her. They separated when she was heavily pregnant with twins.