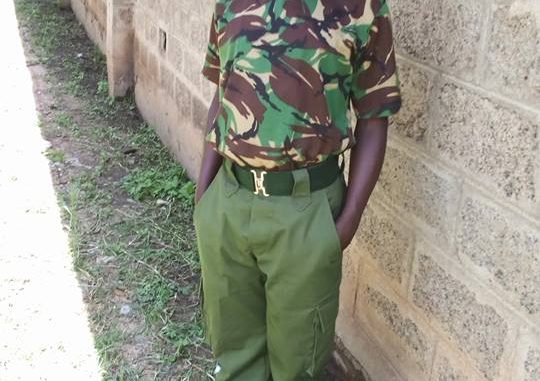 Prison warder Isaac Ojwang has been threatening to commit suicide after a family row. The police officer took to his Facebook page and posted a worrying message that most of his colleagues, family, and friends never took seriously.
He seemed to have marital problems that he was not able to sort out with his wife. According to him, his lawfully wedded wife has been cheating on him behind his back with other men despite all the sacrifices he has made for her including taking care of his wife's family.
Isaac felt betrayed and would not stand sharing his wife with other men. He even shared his will in the post by declaring that all his properties belong to his son when he is gone. Most people called it a bluff but the man-made good his threat today and he was found dead after hanging himself with a rope.
Police officers have been making headlines lately due to serious mental health issues that have been displayed by the men and women in uniform.
Also Read: Should Safaricom Pay This Young Innovators For Stealing Their Valuable Ideas? (Screenshots)
People have been calling on the government to check on the mental health of police officers who have been sending worrying messages on their social media accounts.
The men from the disciplined forces have chosen to take the easy route by taking their own lives and those of their loved ones when things don't get in their way.
The stress in their workplaces due to their nature of work, poor working conditions, and less pay that is not commensurate with the work they do tips them to the edge when additional social problems set in.
Many police officers have ended their lives this year and the government doesn't seem to care. It has been less than a week since Caroline Kangogo killed two men in cold blood over issues related to love and business deals went sour.
Just like other officers who have gone the same route, Kangogo had been posting disturbing messages on her social media accounts and nobody took her seriously until she committed murder and shot herself on the head.
It is high time for the inspector general of police to ensure that every police officer undergoes mental health checkup every month to make they are okay mentally and physically to perform their duties.