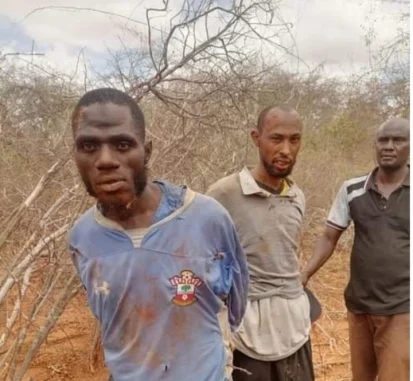 Kamiti terrorists convicts are back in prison after the Anti-terror police, police reservists, administration police and members of the public collaborated to get them back to prison.
The two made a spectacular escape from Kamiti Maximum Prison, with no one noticing. The sacking of their boss followed the bridge of the Kamiti prison guards.
Foul play and corruption aided the inmates' escape. They were close to succeeding, but because of the public, they were now back in arrest.
The attackers had various belongings, including a cellphone, when the police apprehended them.
According to recent reports, an elderly local woman who runs an eatery in Endau market has shed some additional insight on the Kamiti terrorists.
She claims the three males came to her restaurant and asked her to assist them in charging their cellphone.
The woman claims she declined to provide the service, and the trio left.
The police reservists who caught the three convicted terrorists have also provided more details about the phone.
According to the reservists, the criminals told them they had misplaced the phone while fleeing through the forest.
According to reports, the trio pleaded with the reservists to assist them in locating the phone.
The terror suspects allegedly promised to provide the reservists a large sum of money if they recovered the phone and let it free, an offer that the reservists turned down.
According to reports, no DCI or Anti-Terrorism Police Units have yet arrived at the location of the arrest.
However, police reservists were on the lookout for the phone. They also found a note with contact information among the convicts.
The investigators will track the communication between the convicts and the owners of the contacts listed on the note with this information.