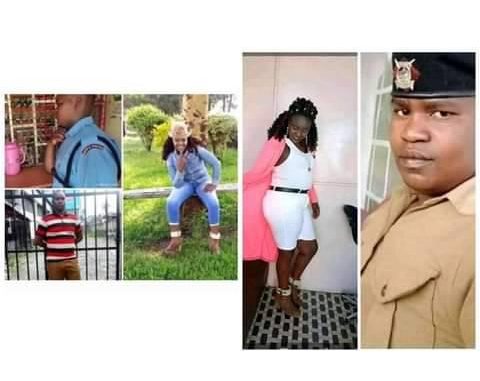 Police Constable Bernard Sivo sprayed several bullets on his girlfriend Mary Nyambura who was hospitalized at Njoro Sub County Hospital, killing her instantly.
He then went berserk and started shooting aimlessly at his colleagues who tried to contain him but all in vain. He ended up shooting himself in the most gruesome way.
Mary had been admitted at the health facility after she suffered a fracture on her right leg. She told the health care providers at the facility that she had been assaulted by her boyfriend Benard Sivo.
The 28-year-old officer was a married man. His wife revealed to detectives that before he committed suicide, he talked to her and told her to take care of their children.
Apparently, his wife was very much aware of the illicit affair between her husband and Mary Nyambura.
READ ALSO: Exposed: How Dennis Itumbi Has Been Frustrating the Mother of His 2-year-old Girl
New details have emerged as to why the officer did the heinous act. It turns out he had opened some businesses for his lover against his wife's will. He started a wines and spirits business for her together with an Mpesa shop.
It seems he was very much in love with her. He is the one that educated her. But she ended up disappointing him by getting engaged to another man according to the latest reports circulating on social media.
What made Mary to be fed with Mr. Sivo was the fact that he did not inform her that he was a married man. He kept his marriage a secret until it was too late. That was the bone of contention.
The young officer could not live with the fact that Nyambura gets married to another man especially after he had invested a lot in her both emotionally and financially. He lost it and became wild.
From the sad story of this tragic love triangle, men are advised to lower their expectations on women. People should learn to accept rejection.