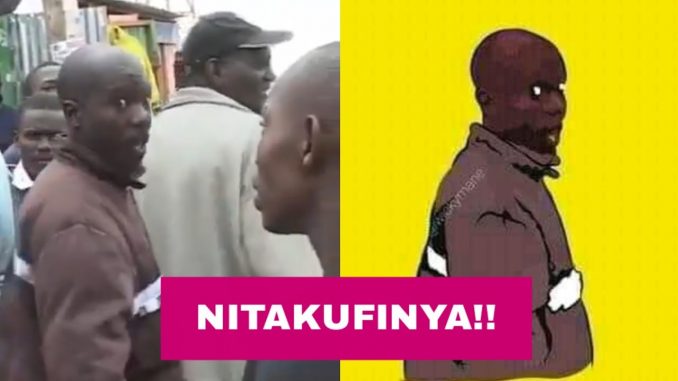 A man known for the slogan "nitakufinya" has sparked concern among businesses and Kenyans.
This comes after he sued them, seeking damages for the improper use of his image or likeness.
For a long time, Kenyans and large corporations have taken the true importance of a person's image for granted.
Companies in Kenya use your image without your permission and get away with it.
They have accused Safaricom of stealing intellectual property from young and enterprising Kenyans.
People are much wiser now, and they understand how to safeguard and fight for their rights.
Aron Asiba Matendechere has sued Co-operative Bank, National Cereals, and the Produce Board separately (NCPD).
Through city lawyer Tom Ojienda, he also sued Ruiru Mabati Factory.
The father of nine, according to The Standard, claimed in court records that respondents exploited his celebrity and image.
They exploit them for their own financial gain, tormenting him psychologically.
Society's Influence
"Because society, my family, my business partners, and my affiliates now believe I made money from the commercials."
He added, "The aforementioned behaviors have subjected me to psychological agony."
Lawyer Ojienda claims his clients live in fear and are at the mercy of creditors who believe he benefitted from the advertisement.
My creditors are on the verge of collecting their debts, and I'm terrified "He responded, "I told the High Court."
He stated his case. Co-operative Bank shared a photo of his reimagined face on Facebook and Instagram on July 5 and 22.
The mail from Co-operative Bank captioned, "Banker akiona loan defaulter akikula kuku.
"Ruiru Mabati has really exploited my identify, image, likeness, or persona for commercial gain," according to the complaint.
Ruiru Mabati infringed on my right to publicity, which gives me the power to manage and profit from the commercial use of my name.
By misappropriating his identify, likeness, or persona, he alleged that the corporate corporations had violated his privacy.
Also Read:
1:Mombasa Women Reveal Why They Turn Down Indian Soldiers
2:Man In Bed With His Wife Jumps Out To Help A Distressed Neighbor Only To Find This