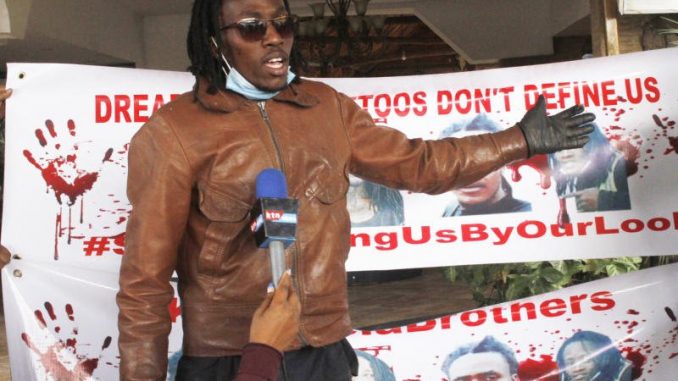 One can only imagine how a young sports biker by the name Julius Mwoki froze when he learnt that his friends Fredrick Mureithi (30), Victor Mwangi (25), Nicholas Musa (28) and Michael Onduso alias Spoiler (29) had been brutally murdered in Kitengela.
The 25-year-old man was to accompany the four to Isinya with his sports bike as they planned to celebrate Victor Mwangi's 25th birthday and attend a relative's house warming party. As fate would have it, that was not to happen.
Julius narrated to journalists how he escaped death by a whisker. He had joined his fellow riding enthusiasts but he realized that he had forgotten something important; his back pack bag.
He decided to go and pick it from his house and by the time he got it, they had already left. It seems he took a lot of time to join them and they decided to proceed without him.
He tried to contact them but none of them was reachable on phone. That is when he lost hope and convinced himself that there is always a next time.
READ ALSO: Mother To The Late Kitengela Brothers Moves Mourners To Tears During Burial (PHOTOS)
"I got my bag then decided to contact them. All my calls went unanswered and I got worried. I told myself that another time will come. You can imagine how shocked I was after learning that my friends are no more," said Julius during a recent demonstration for the Kitengela Four's justice.
The four young men were killed after being mistaken for cattle rustlers. They tried to plead their case with the angry Maasai residents led by Benson Ole Mungai but they were brutally killed with spears.
Each of them had spear injuries on their heads. Their documents were burnt together with their expensive sports motorbikes. One wonders how cattle rustlers could carry livestock on motorbikes.
The mastermind of the heinous act was Benson Melonyie Ole Mungai and he is still in police custody as the case was taken over by the Directorate of Criminal Investigations (DCI).