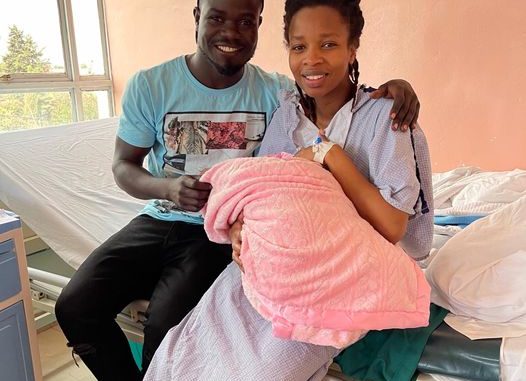 Carrol Sonie gave birth to a bouncing baby girl, making Mulamwah the newest father in town.
The comedian has expressed his joy in welcoming his daughter, and Kenyans have been quick in congratulating him.
Mulamwah gifted his Carrol Sonie with a bundle of roses and cash totalling to 100 thousand shillings.
He asked her to buy anything she desires because she deserves to be happy after enduring labor pains to deliver safely.
Mulamwah, who is a trained nurse by profession, also gifted the doctors that ensured safe delivery of his daughter.
The man from Kitale could not hide his joy and from what he had been posting, his daughter had given him happiness.
Hawk eyed Kenyans, noted he whispered to her ears of Carrol Sonie as he posted the video to take 5k and return the rest to him.
Others think he risked exposing his daughter to covid by pouring money that is not sanitized on them
"Congs Mulamwah but that money is it sanitized???? Shouldn't be close to a toddler"
"You are the first Luhya man chopping cash for his woman as a gift".
It is not yet clear if he gave her 100k because he genuinely feels that she deserves the money after labor or just for publicity.
It is unnecessary to do all that for the cameras, but we cannot blame him because that brings food to his table.
Anything that can rack up views to his You-tube channel is an opportunity that is too good to pass .
Even if it means exposing his family to public scrutiny.
ALSO READ:
1: "Tuonyeshe Masikio We Confirm DNA", Netizens Hilariously Reacts To Mulamwah Newborn Daughter
2: Red Handed: Jeff Koinange Thirsting Over Lilian Muli Leaves Tongues Wagging
3:Jacque Maribe: "I Thought That I Will Never Get Pregnant Till I Met Erick Omondi".