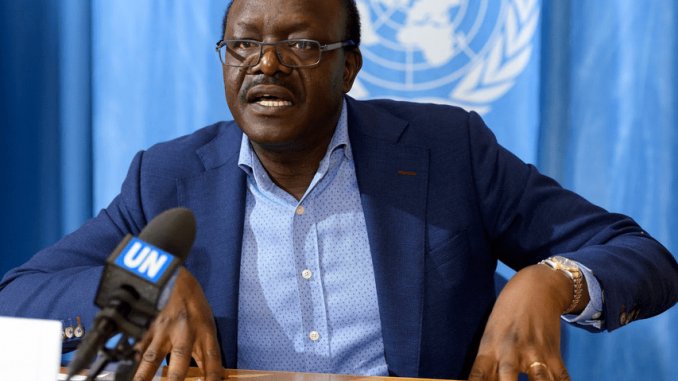 Former trade minister and UNCTAD boss Mukhisa Kituyi was hosted by Wahiga Mwaura on Citizen TV and debated on various matters regarding the status of the country.
Wahiga Mwaura asked him about the infamous sex tape that was doing rounds on social media but the charismatic politician told him that he did not wish to reduce his debate to a discussion below his neck.
In other words he meant that what they were discussing was far more important and of intellectual nature other than engaging in sexual talks that is meant for bimbos.
Kenyans were surprised and at the same time impressed by how cleverly he managed to navigate that tricky question that had threatened his political career.
Dr. Mukhisa Kituyi is one of the intellectuals here in Kenya that has declared serious interest in contesting for the presidency in the upcoming general elections.
The 2022 general elections has attracted many contenders but still William Ruto and Raila Odinga are the main men to beat. They have the resources and a huge support base that other contenders cannot match.
Also Read: This Is How The Court Ruled Against The 6 Police Officers That Killed The Kianjokoma Brothers
Dr.Mukhisa Kituyi has been missing in action for sometime now perhaps to enable the dust to settle before he gets down to business after a career ending video made its way to the Kenyan social media spaces.
Mukhisa Kituyi was caught on camera with a South African voluptuous and super hot sports journalist in a very compromising situation. It is rumored that the lady tried to black mail him with the sex tape but the son of Pharaoh refused.
She was left with no other choice than to release it to the public. The video damaged his reputation and that of his family. Many Kenyans thought that it was game over for the good doctor but they were all wrong.
The man went underground perhaps to allow Kenyans to forget that unfortunate video before he resurfaces. Yesterday he made a come back and was seen in the company of speaker Justin Muturi and Makueni Governor Kivutha Kibwana raising speculations about a possible coalition between the three old pals.