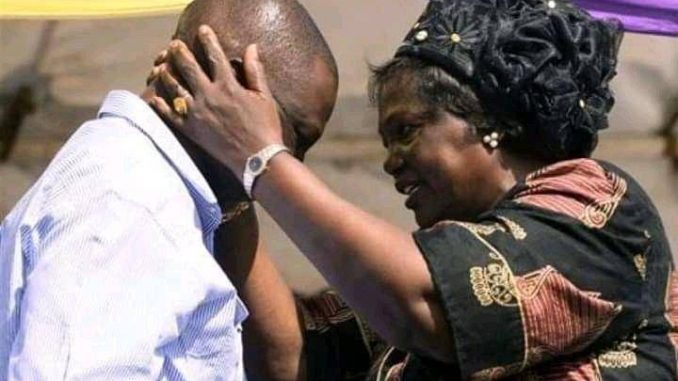 MP for Bahati Onesimus Kimani Ngunjiri,has revealed deep state's plan for preventing Ruto from ascending to power.
In a YouTube video released to the public, the outspoken politician accused the country's founding First Lady.
He has accused Mama Ngina Kenyatta of being part of the scheme to destabilize Ruto.
Kimani accused Mama Ngina of playing a role in the controversial handshake that saw President Uhuru reconcile with Raila.
According to the legislator, President Kenyatta's close family members helped to secure the handshake agreement.
The Uhuru family made the handshake with the goal of preventing DP Ruto from becoming the country's fifth president.
"They gathered Uhuru's mother, Mama Ngina, and traveled to Raila's residence in Karen, where they agreed on a strategy."
"They were hunting for Raila Odinga because they knew he had a lot of propaganda," he explained.
"When they arrived, they discussed, and Raila presented his approach, which was to smear Ruto with graft cases."
They brought Raila in as part of a well-planned strategy to sow discord between Uhuru and Ruto.
According to Ngunjiri, ultimately, the plan was to stymie the DP's State House ambitions through graft allegations.
He claims, however, that this scheme failed, prompting the deep state to devise a new method.
They executed the second strategy in the La Mada hotel through a series of meetings by politicians allied to them.
At La-mada, they explored the possibility of eliminating him. The La-mada case is still in court.
ALSO READ:
1: CBC Is Not Bad After All, American Teachers To Come For Bench Marking
2: Police Officer Dismissed In His Absence For Absconding Duty But Had Been In ICU
Kimani, in his usual caustic manner, claims that the deep state devised a third strategy to stymie Ruto's goals.
This after the first two strategies terribly failed.
The third strategy, he claims, was to re-open the DP's crimes against humanity case before the International Criminal Court (ICC)
The MP claims that lawyer Paul Gicheru, who is presently on trial ICC on charges of buying witnesses called him to reveal it all.
He claims his plan is to fix Ruto. Lawyer Gicheru, according to Kimani, is a deep state project.
The MP accused other prominent government officials of being part of a larger plot to destabilize the Deputy President.
The allegations about the existence of the deep state have sparked controversy across the political spectrum.